Icarus and Feature Upvote
Managing 100s of suggestions per day using Feature Upvote
Icarus is a PC-based survival game developed by New Zealand-based games studio RocketWerkz.
We spoke with Elissa Snowball, Assistant Producer, who has been managing the team's Feature Upvote suggestion board since it opened in August 2021.
With over 10,000 suggestions to date, Icarus has had one of the most active public boards in Feature Upvote history.
What is RocketWerkz's development philosophy?
RocketWerkz have long been champions of open development and adapting their games in response to community feedback. Studio founder Dean Hall was a pioneer of 'early access' game development as the creator of the hit game 'mod' DayZ, which went on to be a wildly popular early access PC game.
Following Icarus's launch in December 2021, RocketWerkz have published an update to Icarus every single week, incorporating recent Feature Upvote feedback. One of the studio's mantras is that "games are played, not made"—meaning that it is not until you have players engaging with your product that you truly find out what aspects resonate with players.
How long have you been using Feature Upvote?
We started using it back in August 2021 when we kicked off the Beta Weekends. For 14 weeks, while we were all in full lockdown, we opened the game up every two weeks and collected feedback using Feature Upvote.
During that period, Icarus received about 100 suggestions per day. That's right. Per. day.
Users would notice bugs the dev team had not had time to spot and they would share their feedback through Feature Upvote.
How do you use it to manage feature requests?
Although Elissa manages the feedback board with only one other person, she opens up every single suggestion that comes through and replies to it.
It feels like you are engaging more with the community if you are replying to the comments or telling them that you are working on their feature (even though it can get challenging with many requests).
She also cleans up the title and description and tags suggestions so that the developers can find them easily.
How would you compare it to other software you've used for collecting feedback?
RocketWerkz receive feedback for Icarus primarily through Feature Upvote, Discord, and Steam forums.
In Discord, users can interact in different channels. With messages coming in day-in and day-out in individual channels, suggestions are easily lost.
With Feature Upvote, you record everything that comes through because you approve it all. And it is better to keep track of feedback because you can go back to it—you don't have to search through hundreds and hundreds of messages.
Steam, on the other hand, is often where dissatisfied players go to voice their opinions. It is a platform where at launch, negative product reviews far outweighed constructive feedback.
Bad reviews are hard to reply to because people don't care. They want to leave the review and then stop playing.
Feature Upvote gives players a more constructive space to suggest or write down bugs without the negativity you often find on Steam.
With Feature Upvote, people are more willing to reply to you and give you reasons for their issues. It sparks a conversation rather than a hate thread.
What features do you use often or find particularly useful in Feature Upvote?
You released a feature I upvoted on your feedback board a couple of months back, which was uploading images to comments. I'm very happy about that one because we get a lot of people saying "why can't we add photos to comments?". Now, they can. This is especially useful for a video game, as we can see their location or what was happening in-game at the time.
Elissa likes to keep formatting consistent across her board. For that reason, she enjoys being able to edit the title and description of the feedback that comes through.
Some of the tickets aren't bad enough to delete, but they've got some sketchy stuff written in them. I can just cut that out.
The high number of common requests RocketWerkz receive about Icarus makes tagging another essential feature for Elissa and her team.
Thanks to tagging, they can see what's important in a condensed view rather than scrolling through 1000s and 1000s of suggestions.
It's been useful for us because we can tell what time bracket we've tagged things in or which specific team should be working on this. Then I can send the whole tag to the team.

It makes it far easier to make tickets and tasks out of that.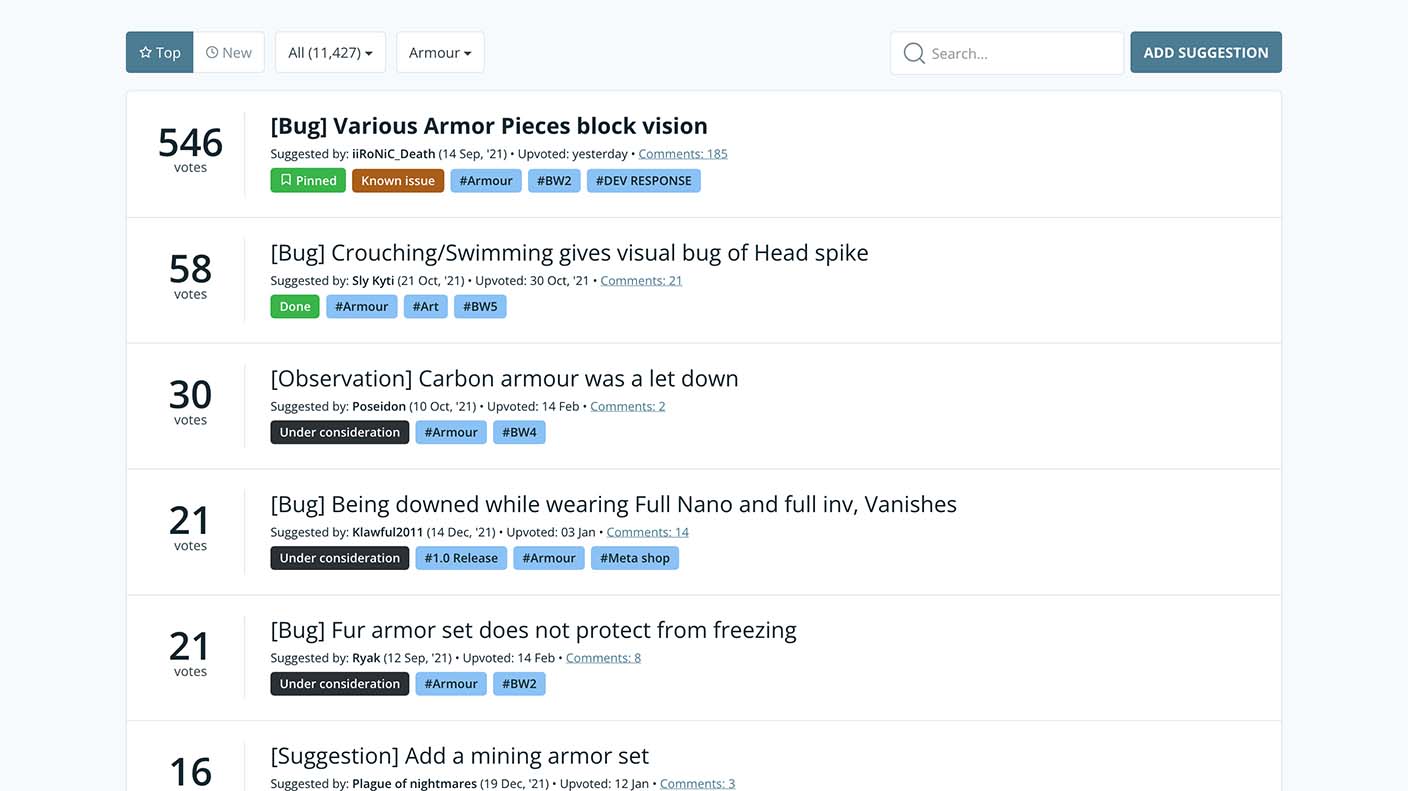 What have you discovered about your product or customers by using Feature Upvote?
We've realized that our game is very popular and people like to voice their opinions about things. And having a place where they can send feedback in and knowing it will be read by someone is really useful.

With games software, there isn't always one right answer, so having a tool that brings all the various viewpoints and suggestions together helps us listen and respond to our community much faster.
Free 30-day trial. No credit card required.