Canny Alternative for Feedback Management: Feature Upvote
Looking for a Canny alternative that grows with your business? Try Feature Upvote.
Canny and Feature Upvote are two comparable feedback management solutions. Both companies came to life in 2017 and are profitable companies with stable growth. They have an impressive client roster ranging from industry-leading corporations to fast-growing companies.
In this post, we'll look at the differences between the two solutions and help you decide whether to choose Canny or an alternative.
Let's jump in.
Feature Upvote: A powerful alternative to Canny for a fraction of the cost
| Features | Feature Upvote | Canny Free | Canny Growth |
| --- | --- | --- | --- |
| Contributors | Unlimited | Unlimited | Unlimited |
| Boards | 1 | Unlimited | Unlimited |
| Admins | Unlimited | Unlimited | 5 included |
| Price | From $79/month | Free | From $400/month |
| Free trial | 30 days | Forever | 14 days |
| Integrations | 6 | 1 | 12 |
| Languages | 15+ | English only | English only |
| Private boards | ✔️ | | ✔️ |
| Custom permissions | ✔️ | | ✔️ |
| Custom statuses | ✔️ | | ✔️ |
| Contribute w/o logging in | ✔️ | | |
| Custom CSS | ✔️ | | |
| Remove branding in footer | ✔️ | | |
| Zapier | ✔️ | | ✔️ |
| Single Sign-On | ✔️ | | |
| User segmentation | | ✔️ | ✔️ |
| Roadmap | | 1 | Unlimited |
Canny costs $400/month, while Feature Upvote costs a flat $99 per board ($79/month if you pay annually). The latter includes similar features to Canny plus the following:
✨ Unlimited owners and managers: The Canny Growth plan includes 5 admins. You will pay $40 for every extra admin you wish to add. Feature Upvote gives you unlimited team members from the get-go.
✨ Users vote without logging in: Feature Upvote lets your users submit feature requests, comment, and vote without signing up or sharing their private information. It's anonymous, frictionless, and safe. A spam filter blocks junk entries.
✨ Full control over your board. Feature Upvote gives you full control over your board. Regardless of the pricing plan you're on, you can:
Edit comments and suggestions
Add private comments only your team can see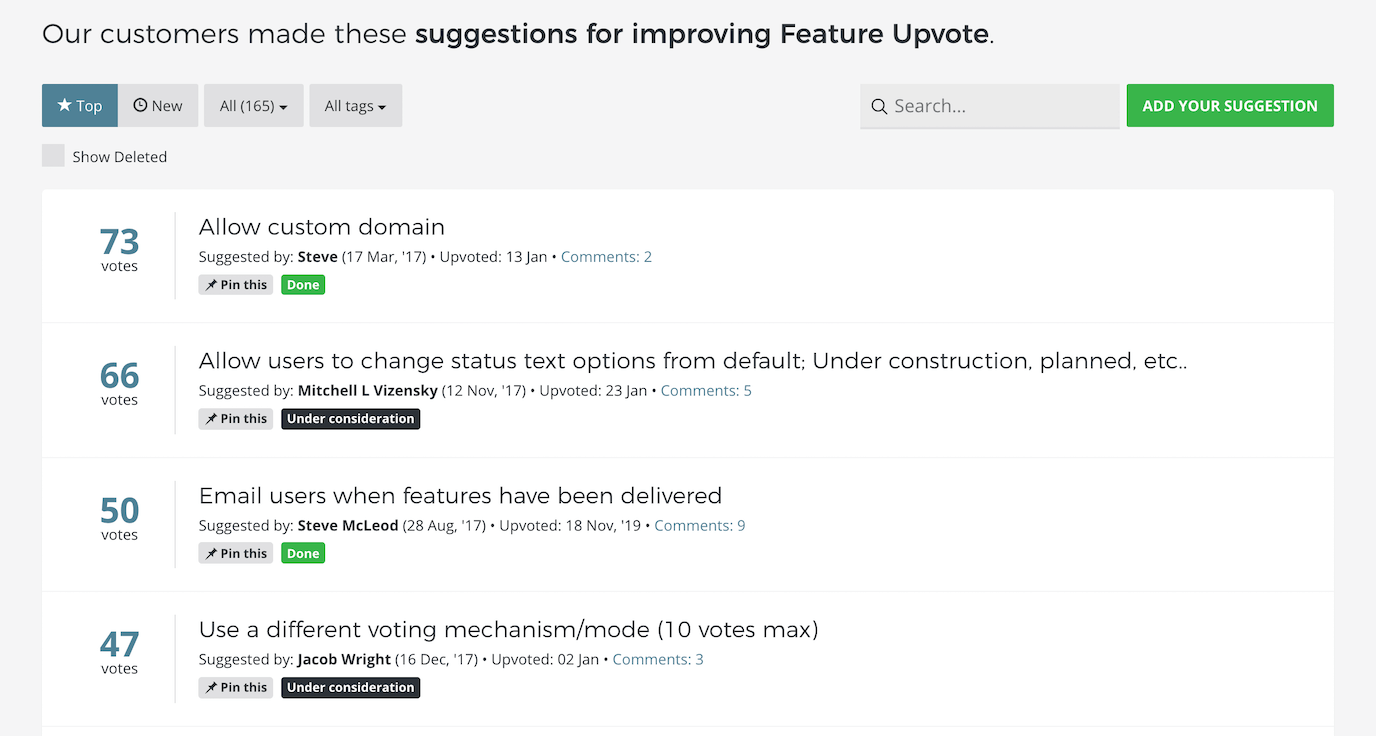 ✨ Custom CSS: Style your feedback board as you please. Add your own CSS to change fonts, add animations, or display a background image. The possibilities are endless.
✨ Advanced permissions: Your board, your rules. Set custom permissions to close your board to new suggestions, disable comments, or hide vote counts.
✨ Private boards: Only paying Canny customers can build private boards. Feature Upvote offers that functionality to all customers. You can use either a password or Single Sign-On (SSO) to secure your board.
✨ All popular integrations: Canny Free includes one integration, Canny Growth 12, and Canny Business over 15. In other words, the higher the plan, the more integrations you get. All Feature Upvote customers have access to the same integrations: Jira, Slack, ZenDesk, Microsoft Teams, Zapier, and Single Sign-On.
✨ Boards in 12 languages: Your customers may not speak English. Feature Upvote allows you to create boards in Japanese, German, French, Russian, and even Icelandic. See the full list of languages available. At this time, Canny only supports English.
What you don't get (and why)
Feature Upvote strives to keep things simple for both you and your customers. When you first log into Feature Upvote, you'll notice we stripped it down to the very essential. It is clean, minimal, and purpose-built.
To keep our product simple and easy to use, we've said no to implementing features like roadmaps, user segmentation, and categories. These are some of the advanced features you will find in Canny.
This conscious choice helps us focus on what we do best. Deliver a product for users to submit and vote for feedback.
---
Canny vs Feature Upvote [Full Breakdown]
Pricing
Canny offers three pricing plans: Free, Growth, and Business.
The Free plan is ideal for bootstrappers. It is also a good option for product managers who want to test-drive a limited, yet powerful feedback tool.
It's a vanilla solution built for product managers to hit the ground running. It comes with one roadmap and one integration to choose from 10 available.
The Growth plan costs $400/month. It is for larger teams who need more functionality (and can afford it). It comes with 5 admins. If you have more admins, count an extra $40 per person per month.
The Business plan is for enterprises that need extra customization and advanced features. It allows email white-labelling and includes sales integrations like Hubspot and Salesforce. The pricing for the Business plan is custom and provided upon request.
Feature Upvote has a much simpler approach to pricing. The cost is $99 per board with everything included and unlimited end-users and admins.
Both companies offer discounts for cash-strapped organizations. They also both allow you to test their software for free. Canny's free trial ends after 14 days, Feature Upvote's after 30 days.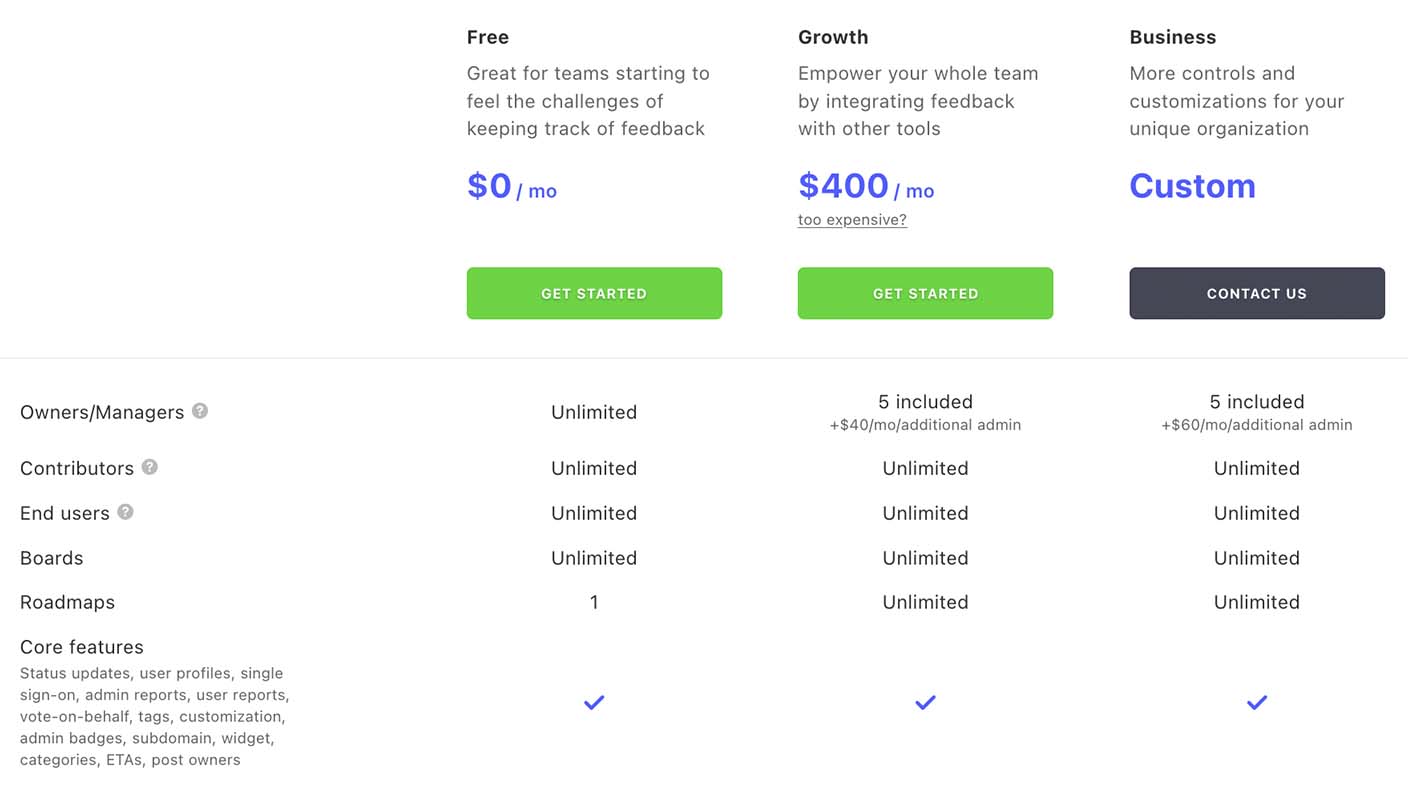 Functionality
All in all, Canny and Feature Upvote have similar features.
Both tools let you edit the title and description of feature requests, upload images, vote on behalf of customers, and much more.
Worried about duplicate requests? Both Canny and Feature Upvote show users suggestions related to their search as they type and let you merge the duplicate requests that make it through nonetheless.
The main difference is in the user experience.
With Canny, contributors have to log in if they want to contribute to a feedback board. This causes eager yet privacy-concerned users to share their ideas elsewhere. Or not share them at all.
With Feature Upvote, anyone can add, vote, or comment on suggestions. They don't have to log in or share any of their private information. A spam filter takes care of blocking junk entries.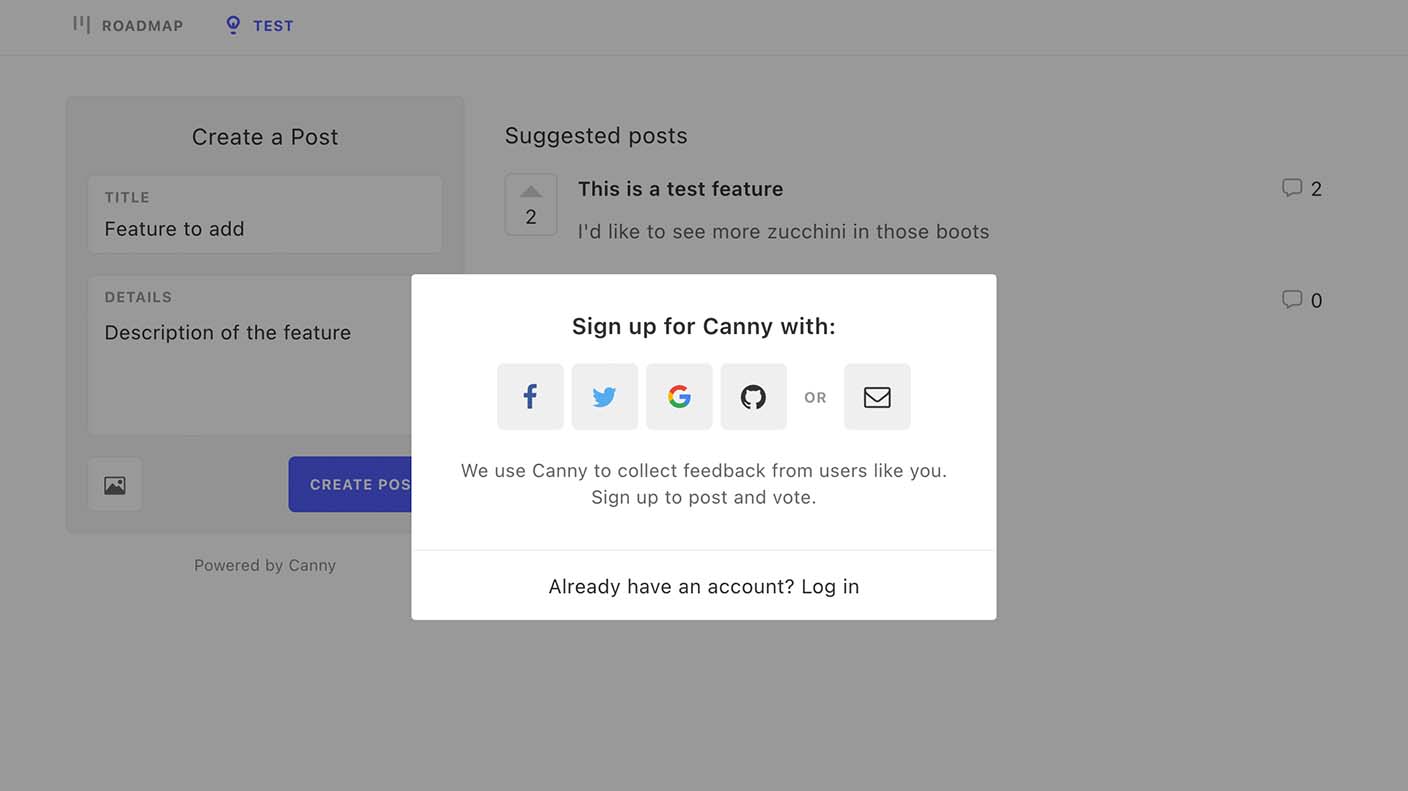 Interface
Although Canny and Feature Upvote have similar functionalities, their interfaces vary.
The Canny interface is richer, though it remains intuitive.
For example, in addition to tags, Canny also lets you assign owners, categories, due dates, and customer segments to feature requests. And you get an entire sidebar dedicated to sorting and filtering feature requests.
This level of granularity may be helpful for teams that need to sort through thousands of feature requests or analyse the feedback they get.
Feature Upvote uses tags only, which is enough for most. With tags, you can organise and find feature requests in seconds. You can also use tags to assign owners, categories, or ETAs to suggestions.
Simplicity is at the core of Feature Upvote. And the interface reflects it. Despite packing a lot of functionality, the software is clean and free of clutter. It's optimized to give both end-users and admins a frictionless experience.
Integrations
Canny integrates with the most common project management and customer engagement tools. You can connect it to Slack, ZenDesk, Jira, G Suite, and Intercom.
Note that only users on the Business plan can set up unlimited integrations.
Feature Upvote comes with all integrations available from the standard plan. This includes Zapier, a tool for automating workflows across a wide universe of apps.
| Integration | Feature Upvote | Canny |
| --- | --- | --- |
| Jira | All plans | All plans |
| Microsoft Teams | All plans | All plans |
| Single Sign-On | All plans | Business only |
| Slack | All plans | All plans |
| Zapier | All plans | Growth, Business |
| Zendesk | All plans | All plans |
| ClickUp, Discord, GitHub, Intercom, Segment | | All plans |
| HubSpot | | Business only |
Bottom Line
If you're looking for request software that will scale with your business, try Feature Upvote. It costs a quarter as much as Canny and includes all features from the Standard plan.
You get unlimited contributors, admins, and integrations. And your users will be able to leave feedback without creating an account.
Cancel anytime. No credit card required.