With 8 million daily users and growing, Slack is the instant messaging app used by many product managers to keep in touch with their team, suppliers, business parters and customers.
It's a fantastic tool: at once delightfully simply and super powerful.
However, for you to get the most out of Slack you need to customise it. To make it work with all the other tools you can't live without. With an ecosystem of apps & integrations springing up, you should be able to turn Slack into the communication powerhouse you need.
Here are the best Slack apps and integrations, as suggested by product managers (and a big thanks to the Mind the Product Slack community for their help).
Collaboration and productivity
Confluence is Atlassian's content collaboration tool. And it has a specific app for Slack. You can customise what you get pinged about and comment on activity from within Slack. Link previews also mean you get a bit of context about each link.
If you use Google Drive, this bot makes your life a lot easier. The rich preview is a winner when you want to show other team members a high level glimpse of a doc. Plus you can do lots more: create files from Slack, get and respond to comments, give access, receive notification when someone shares a file with you, and more. Also in the pipeline is the ability to see comments and sharing events from Slack in Google Drive.
Mural provides a virtual whiteboard so you can brainstorm and design content with team all over the world. With their Slack integration you can quickly see when someone comments on a mural, when someone joins, and when you get invited to a mural, room or workspace, all without having to leave Slack.
Like the sound of automated team status reports, which can potentially replace stand ups and status meetings? Then Status Hero could be the tool for you, and they integrate with Slack. Receive check-in reminders, check in, and view summary reports in Slack.
If you're a keen Trello user, then their Slack integration makes your life smoother (or definitely less about switching). Add new Trello cards and assign them to team members directly from Slack. Join boards. See key insights when someone posts a Trello link.
Zoom is video conferencing software with a Slack app. You can start video and screen sharing from a Slack channel, private group or direct message with the /zoom slash command. The integration also provides a meeting summary and recording link if you want to get another team member up to speed with what you've discussed.
Todoist is a simple and easy to use 'to do list'. They have a neat Slack app that lets you create new tasks from within Slack, convert any Slack message into a Todoist task, and reallocate tasks. If you're fed up with complicated productivity apps then this will make a refreshing change.
Roadmapping and feedback
Aha is product roadmapping and marketing planning software with Slack integration. By using a /aha slash command, you can create ideas, features, to-dos, and more while in Slack. You can also send notifications from Aha! to Slack.
Feature Upvote provides you with a simple product ideas board where your customers and team can add suggestions and upvote existing ones. With their Slack integration you can see all new suggestions and comments that are posted to Feature Upvote, complete with a link to each comment and suggestion.
Productboard is an all-in-one product management system. Their Slack integration means you can push messages and suggestions to productboard, with the option of specifying the importance to the end user, linking to a related feature idea or adding additional context. In productboard, you can also see threads containing subsequent replies to any messages you've pushed.
ProdPad provides management software for product managers. Their Slack integration will streamline your workflow so you don't need to keep switching between Slack and ProdPad. Log and search ideas in your backlog from Slack, send ideas from your backlog to Slack and vote directly from Slack.
Development and data
Jenkins CI is an open source continuous integration server with hundreds of plugins, so you can configure it to meet your needs. You can use it for release status notifications, for example. The Slack integration will post build notifications to a channel in Slack.
Marker is a Chrome extension that makes it easy for you to report visual bugs using screenshots and annotations and send them directly to Slack. Everyone on the selected Slack channel will see the message and a link back to the page where the screenshot was taken. You can use Marker.io in other ways as well. It's a flexible tool.
Papertrail gives you an effective way of logging errors into a central channel, when they happen.
As you'd expect, this integration is very configurable. There's lots of potential for automated porting of information from other systems into Slack.
Customise and streamline
This one can be fun. Slash Commands lets you implement customised Slack commands. For example, typing /weather SE22 could send a message to an external URL that would look up the current weather forecast for East Sussex and post it back to Slack.
An essential app for anyone still on the free version of Slack. Slack Deletron uses the Slack API to help you search, manage and delete files from your workspace. You can delete all or by file type.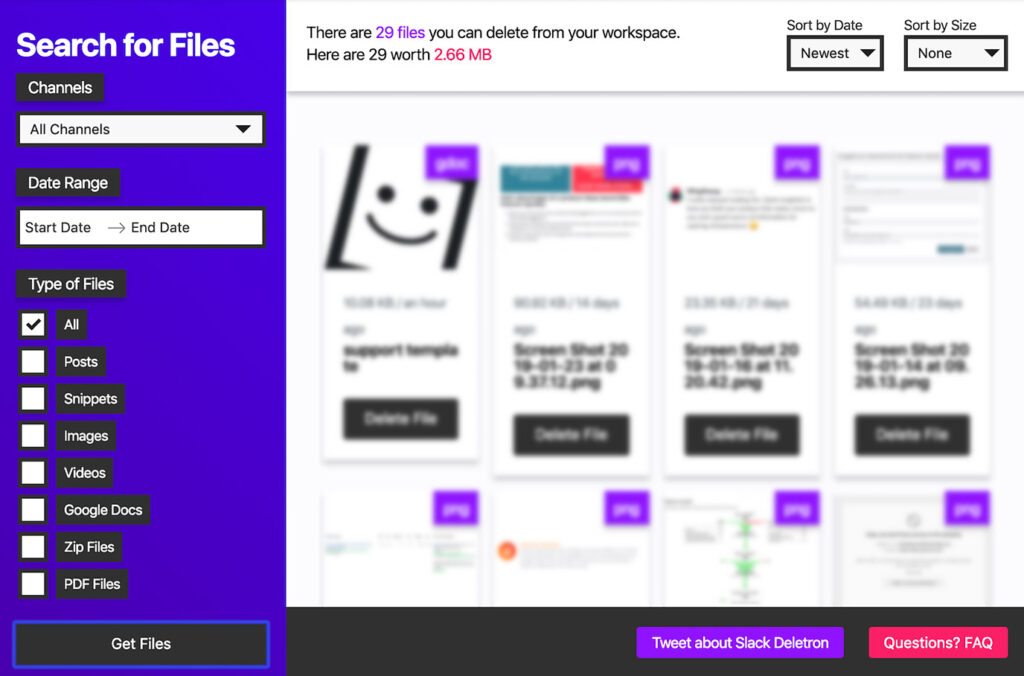 Fun and friendship
Want to strengthen your team's relationship and collaboration? Mainly by encouraging more people on your team to meet up, hang out and eat donuts? This app is for you. It's also good for onboarding new hires (some of this functionality is in beta).
Obviously no Slack channel is complete without a GIF of a cat filing its nails or a well-dressed man doing a silly dance. With the Giphy app you type /giphy happy and immediately see the minions cheering in their seats. Select 'shuffle' to see another clip. Or 'send' to inflict the GIF on your team.
Like tacos? Want to give your team a way to show appreciation for each other? HeyTaco! could be just what you need. It's built for Slack and basically means you can send taco emojis to each other.
Build your own
Not seen the app/integration that you need? Consider building your own. Slack shows you how in this article.