Here at Feature Upvote, this is a question that's intrigued us for some time. Should you make your SaaS self-service? So your customers can clearly see your pricing on your website and easily try out your product for free?
Or should you do everything you can to get customers on a sales call with your talented sales team, who demo your product personally and agree a bespoke price?
Traditionally, SaaS companies, particularly at an enterprise level, have opted to onboard customers with the 'high touch' approach. However, many new entrants to the market are adopting the self-service approach, even with large clients.
So, which approach is best?
In this article, we look at the different approaches of UserVoice and Trello. Both companies are successful: Atlassian paid $425 million for Trello, making it Atlassian's most expensive acquisition to date. UserVoice, meanwhile, counts companies like Microsoft among its user base.
UserVoice and Trello both also provide a product that can be used to organise customer feedback and feature requests (this is our market too).
However, UserVoice and Trello onboard clients in very different ways.
Free trial or sales-led approach?
Initially, it looks like you can try UserVoice for free.
However, once you've entered your email you see a screen that says "Thanks for your interest. Someone from our team will be reaching out to you shortly".
You then have a choice to watch the online product demo or take the product tour. You can't however, actually try the product for yourself at this stage.
In contrast, Trello invites you to create an account with no sales call. You just need to provide a name, email and password. Or you can sign up with Google.
Trello's priority is to get you to try the product rather than to make contact with you. They do, however, personalise their onboarding.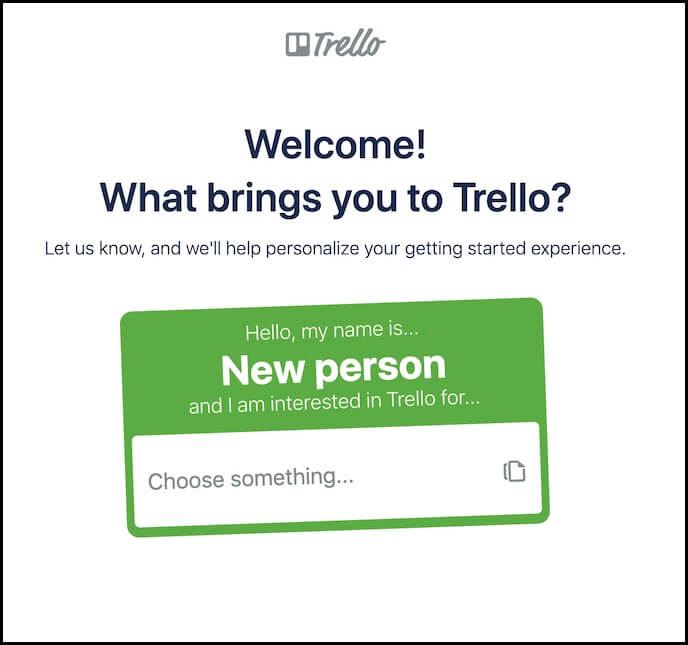 Main advantages of UserVoice approach:
Personal approach to each customer might convert at a higher rate
UserVoice have your email so can follow up
Would-be customers can still watch a demo video or take a tour
Main advantages of Trello approach:
Some customers prefer to try the product first rather than jump on a sales call
Demo videos and tours can feel quite detached – showing your product rather than telling people about it can be more effective
UserVoice content, about trying out the product for free, feels slightly misleading, because you can't, without arranging it with the sales team
Onboarding can be 'personalised' to an extent
Show pricing or not?
UserVoice don't show their pricing. They used to, however.
In mid 2016 UserVoice's website mentioned two plans: 'Basic' at $499, and 'Enterprise' at 'contact us', which offered multiple products, multiple languages, and private forums.
In early 2017 a limited 'Starter Bundle' was available at $199 (up to 1,000 end users who can contribute and vote). This plan seems to be no longer available.
This is the last time UserVoice openly published their pricing.
So UserVoice have made a deliberate choice not to show pricing, having experimented with this approach previously.
This has led to some frustration from would be customers. On the UserVoice forum the suggestion 'Have a pricing page' gathered 109 votes.
In response, Claire Talbott, support manager at UserVoice, responded:
Thank you for taking the time to share your thoughts around adding a pricing page to our website. This was something we discussed at length as a company.
However, while we can relate to just wanting to get a quick price quote (we've all been there), we have found a straight up feature list and price, well, it's a pretty detached experience for people interested in our product.
A feature set one person needs is different than someone at a different company. On a quick call or chat, our team can quickly learn about your needs, and tailor it vs. one size fits all.
UserVoice suggests that their approach to pricing offers a more personal approach for customers.
This must offer better results for UserVoice than the self-service 'detached' approach offered by other SaaS companies like Trello.
Trello don't make it super easy to see pricing because their focus is on getting you to try out their product on the free plan. They can then upsell you, once you've found value in the product.
However, the footer has a pricing page for anyone who is curious (in contrast to UserVoice who don't show pricing at all).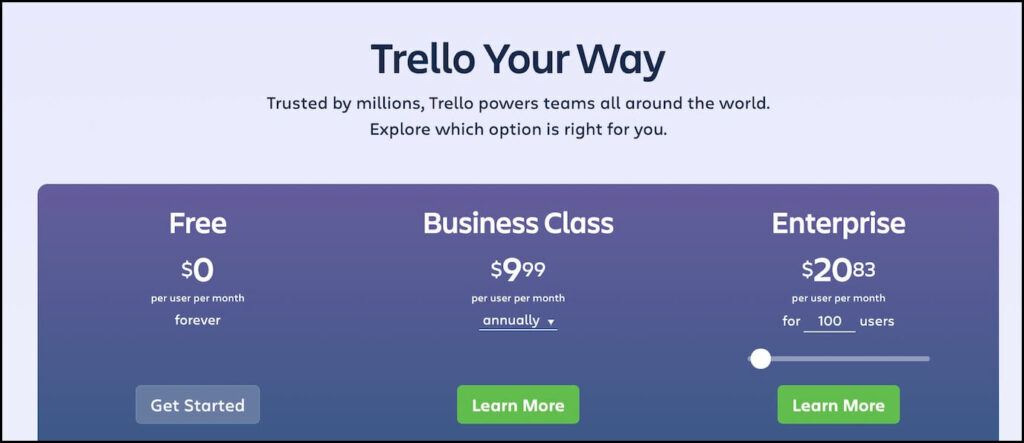 Main advantages of UserVoice approach:
Quickly make personal contact with customer
Offer accurate price rather than an estimate
Upsell customers at the beginning of the relationship, potentially increasing customer lifetime value
Main advantages of Trello approach:
Quickly satisfies key customer question: how much does this cost?
Least friction possible for would-be customers wanting to find out about the product, and then try it out
Customers who find value on the free plan are more likely to convert to a paid plan or recommend Trello to their companies than if they'd never tried it
Users or business customers first?
Trello is well-known for a strategy that initially prioritised users over paying customers. In 2016 it could claim that 70% of the largest companies in the U.S. had an employee using its tools. However, very few of these Trello users were paying the company any money.
This approach began to change in around 2015. Trello launched an enterprise plan, costing an average price of $250 a year per user.
They also now encourage would-be users to approach their sales team, although it seems likely that most users would have experience of Trello boards already through the free plans.
Trello's approach seems to basically have been about "infiltrating a company by individual user" – used with great success by Dropbox. Once you have enough (free) users in a company, then they will advocate the company-wide adoption of your product.
Our 500 million registered users are our best salespeople. They've spread Dropbox to their friends and brought us into their offices. Every year, millions of individual users sign up for Dropbox at work. Bottom-up adoption within organizations has been critical to our success as users increasingly choose their own tools at work. We generate over 90% of our revenue from self-serve channels — users who purchase a subscription through our app or website.

Dropbox, quoted by Michael B. Gilroy
In contrast, UserVoice's approach has been to attract paying business customers first and foremost. It is unlikely individual members of the company would act as advocates, unless they'd worked with the product previously, perhaps in another company.
UserVoice presumably waits until someone influential enough in a company experiences the problem their product solves. They then present their solution as something that the entire company should adopt, top-down.
Main advantages of UserVoice approach:
Prioritise revenue
Only need to convince a few influential people at each company
Main advantages of Trello approach:
Quickly get brand recognition
Turn users into advocates who lobby for company-wide adoption
Increase revenue down the road, when you already have millions of users
Many users already explored your product so likely to be happy using it
Traditional vs modern approach?
It's quite easy to see UserVoice as taking a 'traditional' top-down sales approach that is on its way out. Meanwhile, Trello, like many recent SaaS companies, adopts a 'modern' approach centred on self-service, product transparency, individual users and viral user growth.
To some extent, this is the argument made by Katryna Balboni at Appcues in her article about "The consumerization of enterprise SaaS and what it means for your product".
For legacy B2B companies, a transition away from sales-led and marketing-led strategies is a daunting task. But to build and sell enterprise products to a modern market, embracing a product-led growth model is essential.
However, I'm not sure it's quite that simple. I find it interesting that UserVoice have experimented with elements of a more product-led growth model, but have decided instead to focus on sales and marketing.
Certainly, trying to get users to experience an 'aha!' moment within 14-30 days while using complex and customisable software is probably quite challenging. A sales-led approach might seem easier.
Also, the exciting 'users first' hyper-growth model clearly doesn't work for everyone. CEO of Evernote Ian Small recently noted:
"When we were a movement, we weren't a business."
Evernote expects to reach positive cash flow this year.
Here at Feature Upvote, we've opted for the self-service approach. However, our price point is relatively low (from $79/month) and we know that our customers can find value in our product within our 30-day free trial.
Let us know what approach works for your SaaS company (@featureupvote).
Feature Upvote – organise and prioritise product feedback. Surface the best ideas.
We provide simple feedback boards with built in voting functionality. Get started immediately. No learning curve for users. Free 30 day trial.