eWay-CRM
Catering to customers across countries with multilingual feedback boards
eWay-CRM is a CRM for Outlook. It helps track and organise emails, follow up on conversations with prospects, create automated marketing workflows, and much more.
The company was founded 14 years ago. Originally set up with UserVoice, they switched to Feature Upvote in 2018 for collecting user feedback.
We spoke with Jan Lalinsky, the CEO of the company.
What problem were you facing that led you to try Feature Upvote?
Our clients are fantastic as they give us plenty of brilliant ideas on how to make eWay-CRM better.

We needed a tool that would help us keep all ideas listed and well organized. We also wanted a tool that would allow customers to vote for the suggestions they find useful.

Such a tool would give us a perfect overview of what we should focus on the most.
Feature voting is an important functionality. It gives your users a voice and helps you prioritise incoming requests. The more votes a request gets, the higher its priority and the more likely its release will delight your customers.
What have you discovered about your product by using Feature Upvote?
We've discovered that our customers want a lot of great features. I wish we had enough developers to add them all!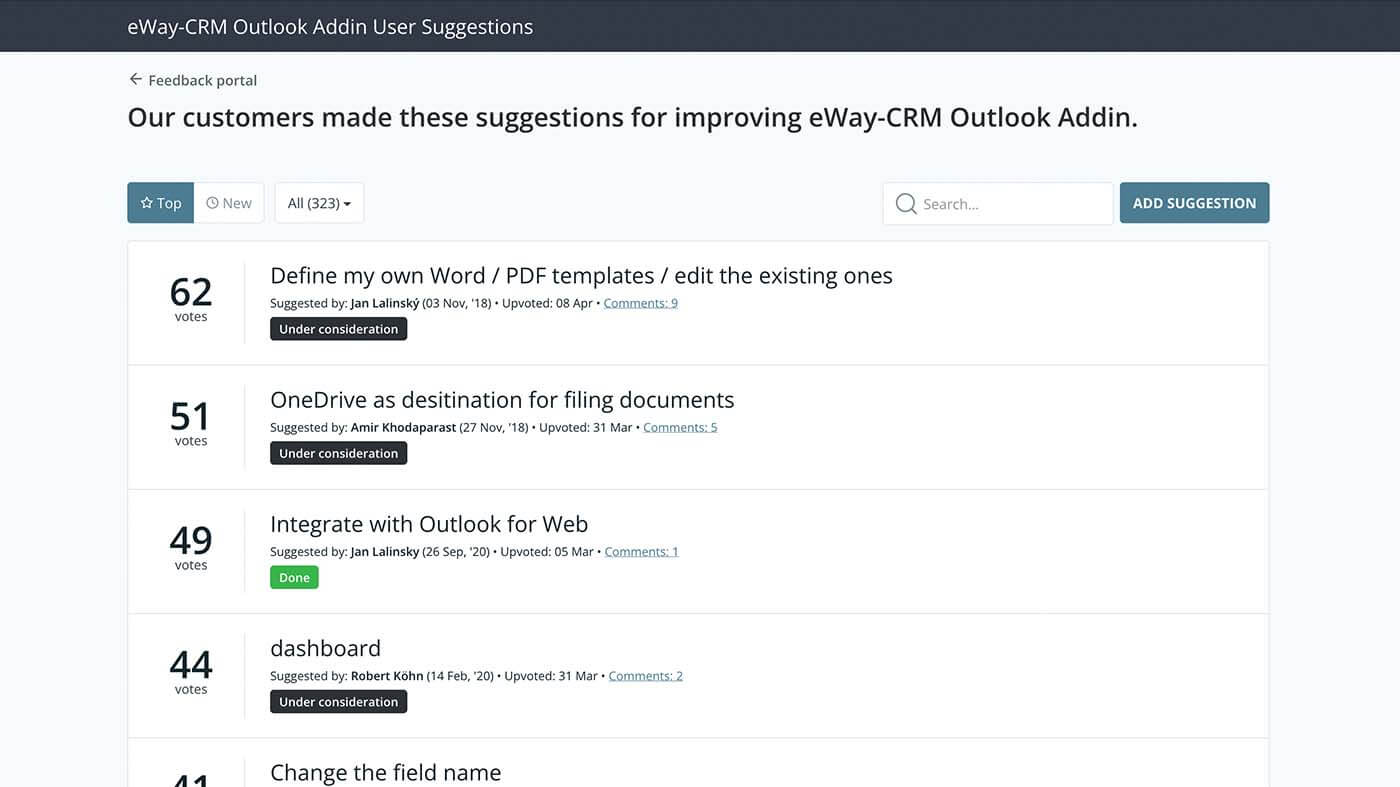 What specific feature do you like most about Feature Upvote?
The search. When adding a new suggestion, you want to make sure that it's not already in there. The search works pretty well.
Feature Upvote uses predictive search to show users feature requests related to that which they're typing. The user can then upvote an existing request instead of submitting her own.
For moderators, this means much less time spent identifying and merging duplicate feedback.
Have you found any other unexpected benefits of using Feature Upvote?
With one foot in the United States and the other in the Czech Republic, eWay-CRM is a multi-lingual company. Being able to create feedback boards in different languages has been beneficial for the company.
Feature Upvote supports the Czech language! We are a small country in the middle of Europe and I did not expect to see Czech in the list of languages.
Feature Upvote lets you create feedback boards in over 10 languages, including Japanese, Dutch, Italian, French, German, Hebrew, and even Icelandic.
Would you recommend Feature Upvote?
We love Feature Upvote.

We added buttons for suggesting new features everywhere we could—our web page, our products, our emails.

We really try to encourage our customers to use Feature Upvote as much as possible, because I think it's the best way to get truly valuable feedback.
Free 30-day trial. No credit card required.