Feature Upvote: an affordable alternative to UserVoice
Looking for an alternative to UserVoice for collecting and voting on customer feedback? We compare Feature Upvote and UserVoice looking at price, approach, and ease of use.
Quick comparison of UserVoice and Feature Upvote
Feature Upvote
UserVoice
Simple user interface
Complex user interface
Modest number of features
Huge number of features
Fits in with your existing workflow
Replaces part of your workflow
Designed for every screen and device
Desktop-first and playing catch up
Free trial and quick setup
Sales call and onboarding assistance
Custom domain name included
Custom domain name costs extra
Major integrations included
Major integrations cost extra
From $79/month
including all features
From $500/month
and pay extra for a custom domain name
Overview
Both UserVoice and Feature Upvote are well-established products with large customer bases. UserVoice was founded in 2008. Feature Upvote launched in 2017.
Both products help you with the same problem: how can you collect and prioritise customer feedback in an easy and helpful way?
Their approaches, however, are different. UserVoice has a raft of features and functionality aimed at enterprise clients. Feature Upvote, in contrast, is for companies who want a simpler feedback solution.
UserVoice as a feedback solution is broad in scope. It offers you three ways to collect feedback: using a web portal for customers, an in-app widget and a sidebar for your customer support team.
This feedback then all ends up in a private admin console where "the options are endless" in terms of analysis, according to their sales development manager Amanda Puzin.
UserVoice also provide a roadmapping section – almost a different product – where you manually create new features that can then be linked to existing suggestions in your admin console.
Feature Upvote is a much simpler product. Instead of being a collection of widgets, interfaces and sidebars it offers a feedback board which is used and viewed by everyone – and can be made public or private.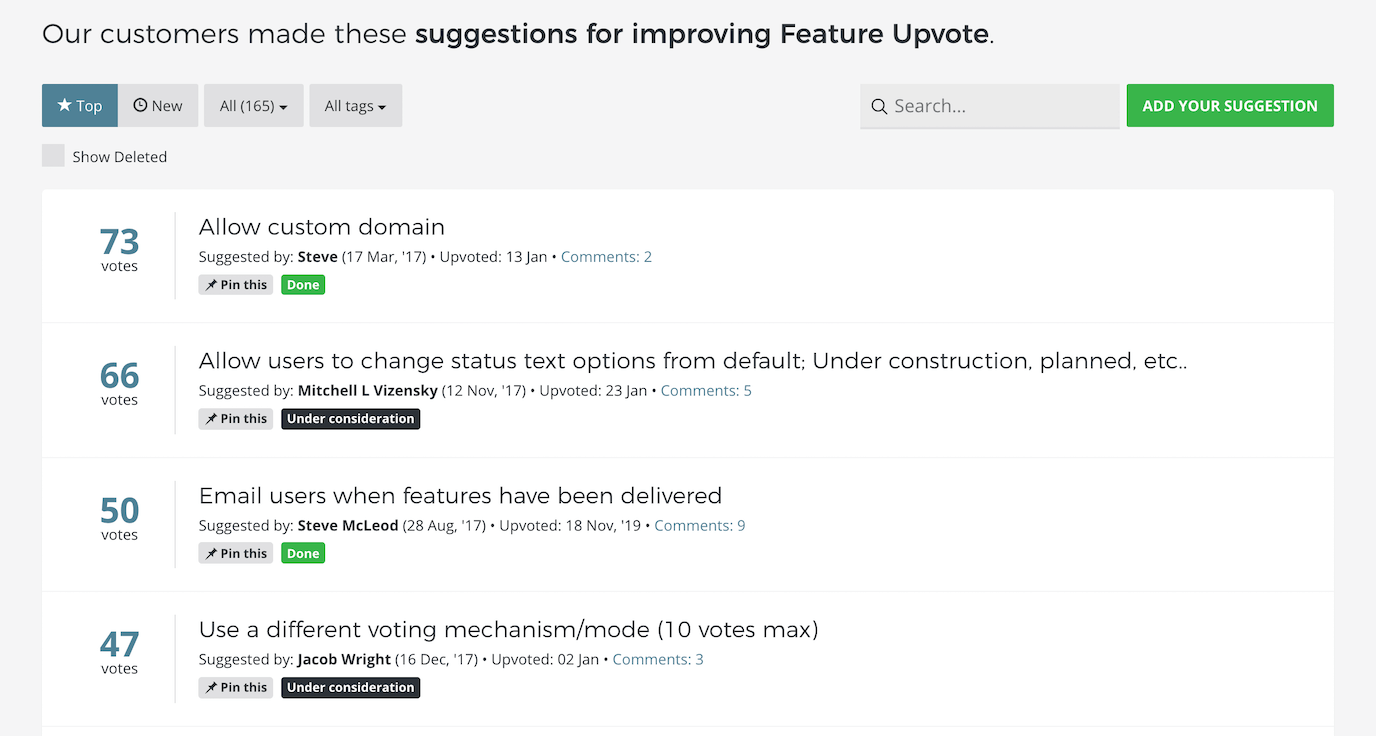 Pricing
UserVoice is an expensive product. They don't publish their prices, but this response on Quora from a UserVoice employee gives a hint:
"Our product management product starts at $499/month because it's something that's most valuable at scale hence the higher pricing."

UserVoice representative's answer on Quora
You'll need to pay extra for add-ons such as a custom domain name. UserVoice doesn't offer any discounts.
Feature Upvote, as a simpler product, has a lower price point. The price per board is $79/month if you pay annually or $99/month if you pay monthly. A custom domain name is included in this price, as are unlimited team members and contributors. See Feature Upvote pricing.
Feature Upvote has special pricing for charities and non-profits, bootstrappers, and free licenses for open source projects.
Getting started and ease of use
UserVoice is a complex product with a lot of functionality and potential customisations. This is one of the reasons why they don't give out their pricing. It depends on what setup you need. So although you can't quickly get started with a free trial, you can expect a 'high touch' sales approach that is helpful if you decide to use the product. You can expect assistance with onboarding and generally getting the most out of the product.
Feature Upvote offers 'self-service' onboarding. This means you can get started with a free trial in about 5 minutes without having to schedule a sales call. Instead of 'handholding' during onboarding, you'll need to rely on email support.
In terms of ease of use, UserVoice has its challenges. This is partly because UserVoice is a complex product with many features and customisations; and partly it is because of its age, predating mobile phones, tablets, and responsive design. Having said this, the UserVoce team have recently modernised the experience.
Feature Upvote, as a simpler and more modern product, prioritises ease of use for both clients and their customers. For example, key functionality from Feature Upvote's moderator dashboard can also be accessed simply by selecting a suggestion.
Functionality
UserVoice offers an impressive amount of functionality and customisation options.
You can pull in data using a portal, widget or sidebar. The admin console is the true powerhouse of the product, and allows you to analyze customer data in different ways. You can see whether a particular suggestion will benefit a key market, how many accounts will be affected by a new feature, or how much revenue it might generate. The Salesforce integration also lets you pull in opportunity data.
Feature Upvote concentrates on core functionality to maintain ease of use. So instead of collecting feedback using a portal, widget and sidebar, Feature Upvote just points everyone – you, your sales team, your customers – to the one feedback board. If your product has an in-app button saying 'suggest idea' this would lead directly to your branded feedback board, rather than bringing up an on-page widget.
Feature Upvote offers much less in the way of analysis. There is no separate admin area where you analyse data. Instead, Feature Upvote makes it very easy for you to track what they see as the most important metric – how many votes a suggestion gets.
In turn, contributors can effortlessly see what has happened to their suggestion: 'done', 'under consideration', and so on.
Integrations
UserVoice offers a wide range of integrations, allowing you to connect to other systems across your company. This is important because UserVoice aims to be the main product you use for customer feedback and roadmapping. In some instances, it will replace or overlap with some of your existing software.
UserVoice integrations include Salesforce, Zendesk, Jira, Visual Studio, Amazon Redshift, Google BigQuery and Stitch.
Feature Upvote, with its narrower product scope, offers fewer direct integrations. As a product, it tends to fit in with your existing systems rather than replace them. Integrations include Slack, Microsoft Teams, Jira and Zapier.
Customers and use cases
UserVoice is aimed at larger companies with big budgets that want to organise and analyse customer feedback. They concentrate on appealing effectively to that market.
Many Microsoft products such as Excel, Outlook, and Intune use UserVoice to collect and aggregate customer feedback.
Feature Upvote aims at small and medium businesses, or smaller teams within large organisations. As a simple product, it can also be used in different ways. Although many companies use Feature Upvote to collect and organise customer feedback, others use it for internal idea management or even hackathons.
Convergint Technologies is the largest systems integrator in the world. They have nine Feature Upvote boards that they use to crowdsource feedback on internal tools.