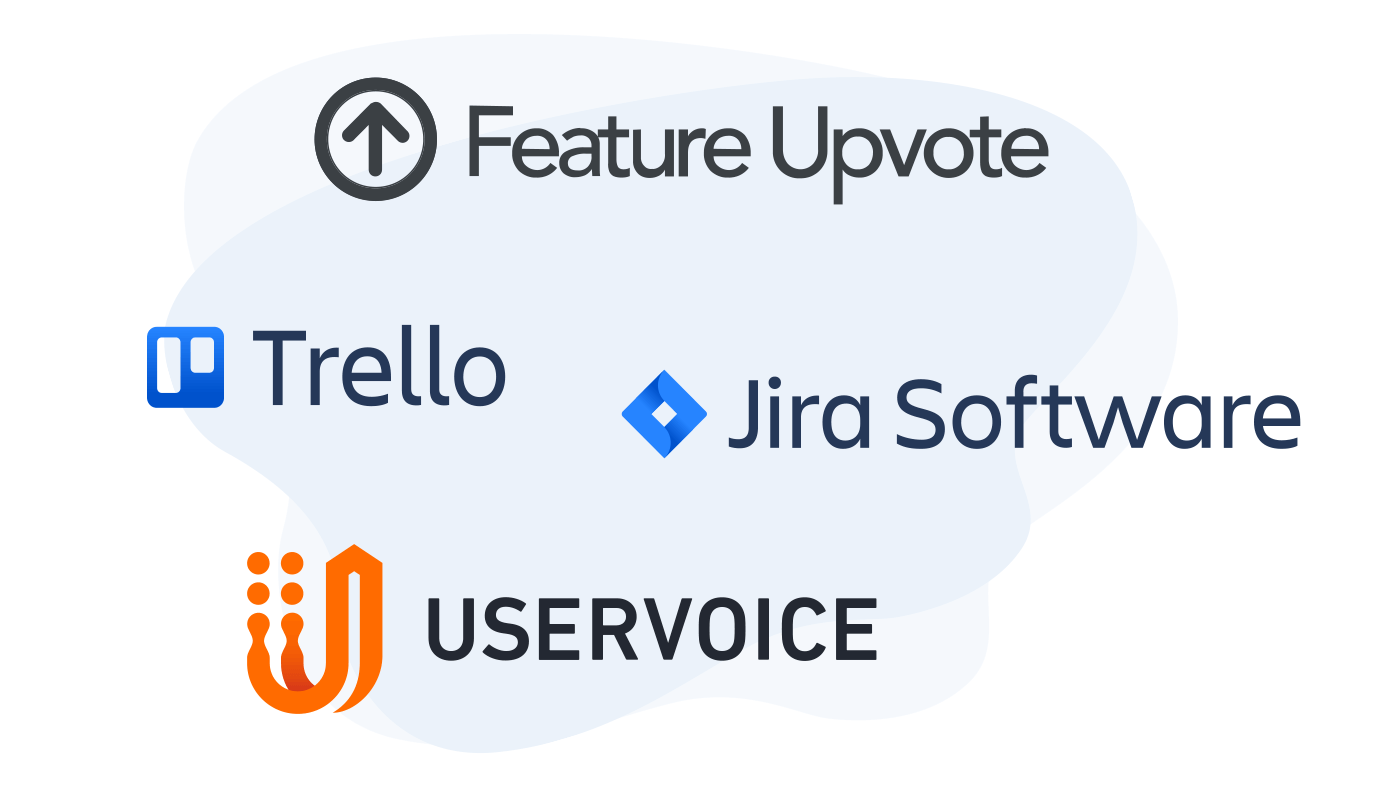 In this article, we'll look at 4 popular feature request software solutions and help you decide which one is right for you.
While there are an infinite number of options on the market, you'll want to consider software that is user-friendly, allows voting, and makes it easy for your team to manage and respond to feature suggestions.
Let's jump right in with our top choice.
Feature Upvote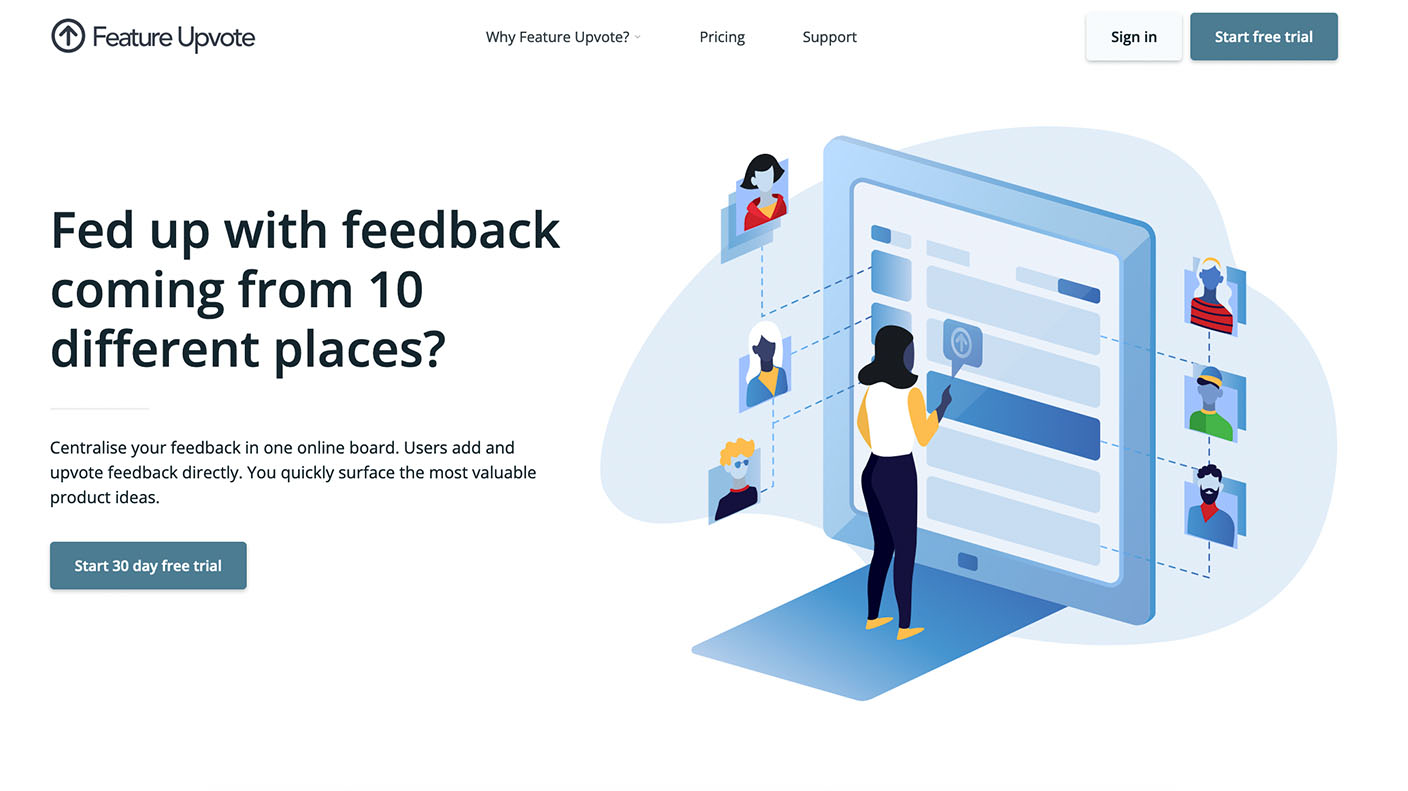 Simplicity and ease of use are at the core of Feature Upvote.
A lot of feedback management tools on the market are stuffed with features and offer a level of complexity most SaaS companies won't need.
Feature Upvote's platform is clean, intuitive, and focused on one thing: providing product managers with a centralized hub to view, prioritize, and manage their users' requests.
A big plus of Feature Upvote is that contributors can easily submit, comment, and vote for feature requests without having to log in or create an account.
As the moderator, you have access to a simple dashboard that shows you which requests are the most popular. You can also add your comments and images to each suggestion to take part in the conversation and share updates on the most anticipated features.
Feature Upvote gives you the ability to run private SSO or password-protected boards. This is particularly useful if you want to collect suggestions from your team or add and vote for feature requests on behalf of your customers.
Lastly, the pricing structure works great for small and medium-sized businesses. There's a fixed price per board with unlimited team members, contributors, and all features included from the very first board.
"Competing products are much more complex and much more expensive. For the functionality we're looking for – a simple feedback community – the features we get are actually better than I expected and at a price that we can afford."

Heather Paunet, Untangle's VP of Product Management
Pros
All features and integrations included as standard
No login required for people giving feedback
Quick setup (no sales call)
Transparent and affordable pricing
Simple user interface
Integrates with Trello, Slack, and a plethora of others through Zapier
Feedback boards available in 15+ languages
Cons
No support chat or instant messaging
Feedback board only, not a whole product management system
A lesser-known, possibly harder-to-sell-to-management software option
Pricing
$99/month per board or $79/month per board paid annually (unlimited team members and contributors)
Bottom line
Feature Upvote is ideal for small and medium businesses looking for a lean feature request solution that doesn't break the bank.
Trello
Trello is another great software for collecting feature requests.
Make your board public and anyone with a Trello account will be able to create cards on the board, albeit they would first need to join your board via a custom invite link.
This isn't a big issue. You could place the board's invite link behind a button on your site, in a Reddit thread, or as a hyperlink in an email campaign to make it easy to access.
For voting and commenting on features, contributors do not need to be board members but do still need to be logged into a Trello account (see Voting Power-Up).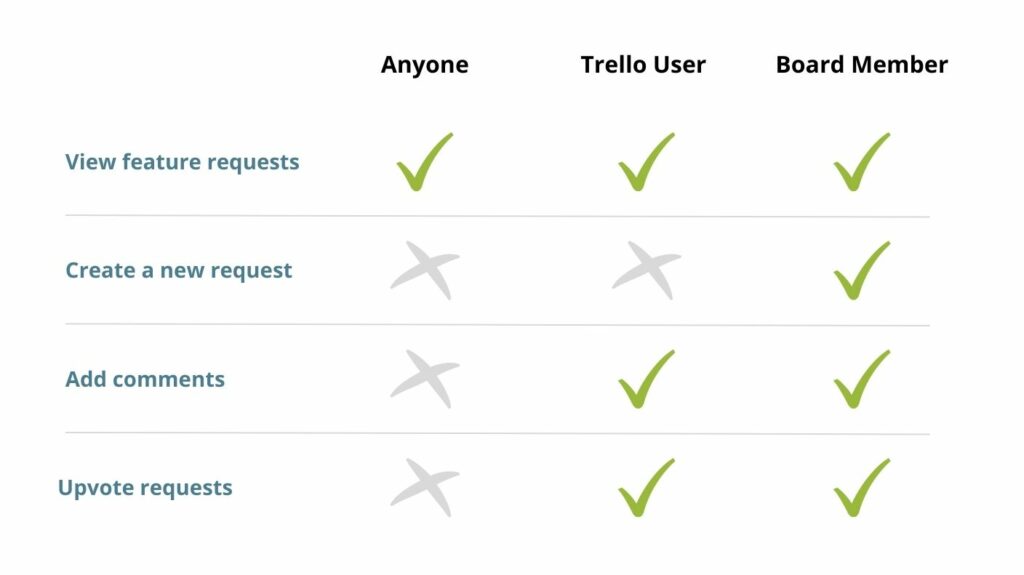 Trello makes it easy to move or copy cards between boards. In two clicks, you can copy a feature request from your public feedback board to your private roadmap.
There's one caveat to using Trello for collecting feature requests though.
Opening a Trello board to the public can become messy (fast!). There is nothing preventing people to move things around your board and edit or delete existing requests.
An alternative solution is to use Trello for proxy feature voting. Keep your board private and invite your team members who receive customer feature requests to contribute to the board instead of your customers.
Pro tip: If you're going to use proxy voting, consider setting up another board for power users/high-value customers/enterprise customers so you can easily see what they need.
Pros
Generous free plan with unlimited users for basic use
Move or copy feature requests directly into your Trello product roadmap
Cards can be sorted by vote count
Users can create cards via email
Cons
Login required to create, comment, and vote on feature requests
Users can edit, move, and delete all feature requests once they join the board
Interface not as intuitive as alternatives (eg. as a simple feedback form)
Pricing
The free account lets you create up to 10 boards and comes with unlimited Power-Ups. Paid plans start at $5/month.
Bottom line
Trello is another great feature request software. However, contributors will have to log in to create, comment, or vote on feature requests.
On the flip side, private boards are outstanding for collecting employee feedback or proxied feature requests.
Jira
Jira is an amazing piece of software for tracking issues. And you can also use it to track customer requests.
We recommend using it for collecting feature requests by proxy through a private project rather than making your project public. A public Jira project allows people to create issues anonymously and opens up your board to spam.
Instead, have your team collect feature requests and add them on behalf of your customers.
The main issue with Jira is their voting system (pun intended).
First off, a Jira user can only vote once for any given card. If you're voting on behalf of your customers, chances are you'll need to upvote popular issues more than once, which isn't possible.
To see how many votes an issue has received, you have to pop the issue open because there is no way to see the most popular requests at a glance. You'll have to use a good ole' spreadsheet and manually record the number of votes for each request, which sort of defeats the purpose of using Jira for feature tracking at all.
For that reason, Jira works best for teams dealing with a small number of feature requests who can work without the voting functionality.
Larger teams will have a difficult time sorting through all the submissions, checking whether an entry already exists or not, and pinpointing the most popular features.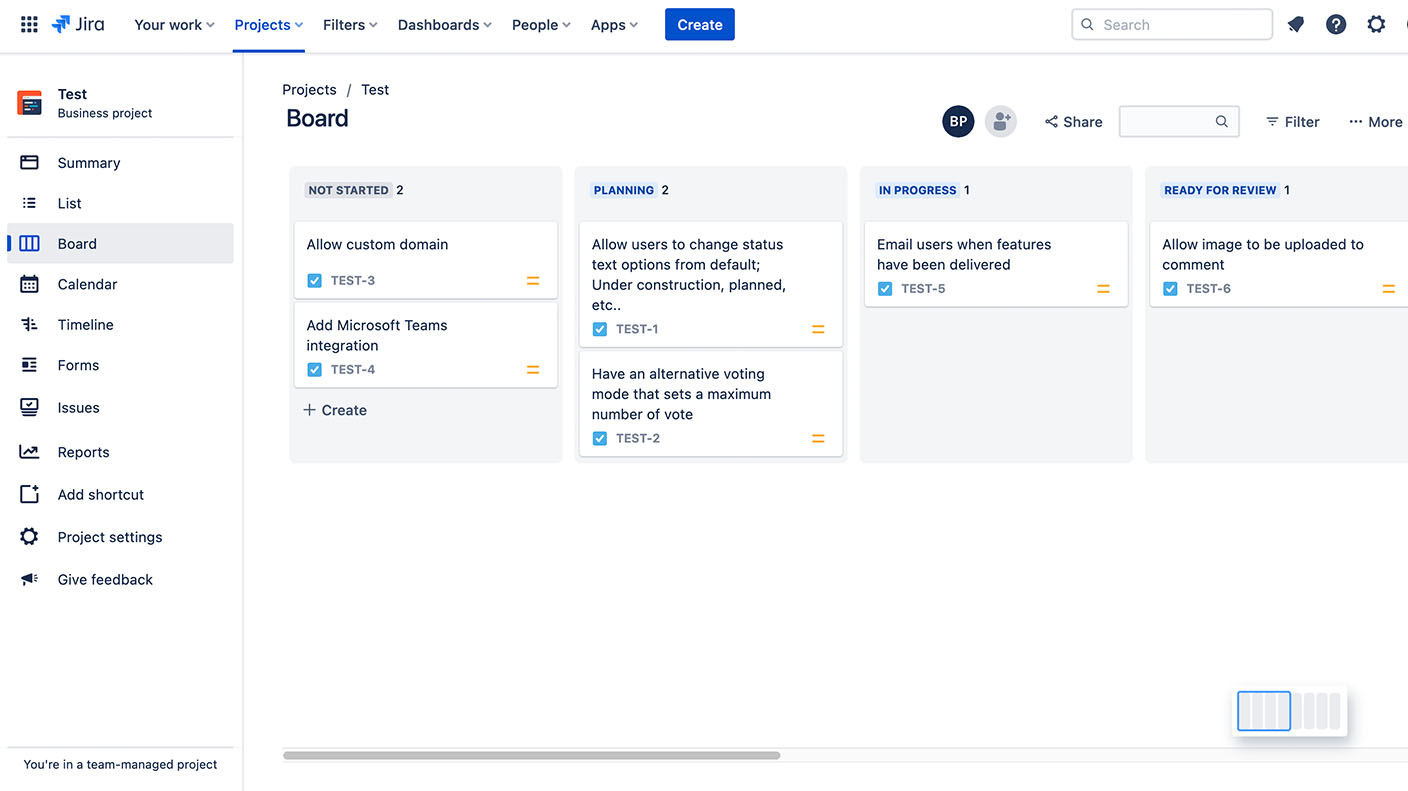 Pros
Link cards between Jira boards
Easily create roadmaps with the timeline view
Generous free plan for teams of 10 people or less
Cons
Only works for feature requests by proxy (private board)
Each user can only vote once so proxy-voting is difficult
Vote count not visible on the board view
No easy way to see whether a request has already been added
Pricing
The free plan is good for up to 10 users and comes with 2GB of file storage.
The standard plan costs $7.50 per month per user and includes advanced permissions, which you'll need if you decide to set up a public board.
Bottom line
Jira is a good solution for small teams who do not need a robust voting system and already use Jira for tracking issues and building product roadmaps.
UserVoice
UserVoice is a great feature request software for bigger companies that need a full range of functionalities (like Microsoft, which was a UserVoice client for several years).
For smaller and medium-sized companies that want a simpler–and much cheaper–way to track and quantify feedback, UserVoice is going to be overkill.
With UserVoice, you can collect user input from various sources: online, in Slack, or directly in-app using their feedback widget. They even have an add-on that lets your team members register customer feedback without ever leaving the browser tab or web app they're working in (eg. email, CRM).
UserVoice comes with in-depth analytics meant to help you estimate the ROI of each customer request that comes in. You can integrate it with Salesforce and quickly filter requests not only by popularity, but also potential revenue, net promoter score, or customer segment.
The pricing is on the steep end. The last time UserVoice disclosed their pricing publicly, it was an astounding $500/month for one user. Yikes.
UserVoice used to offer a free trial which they've now converted into a product demo that you can register for on their site.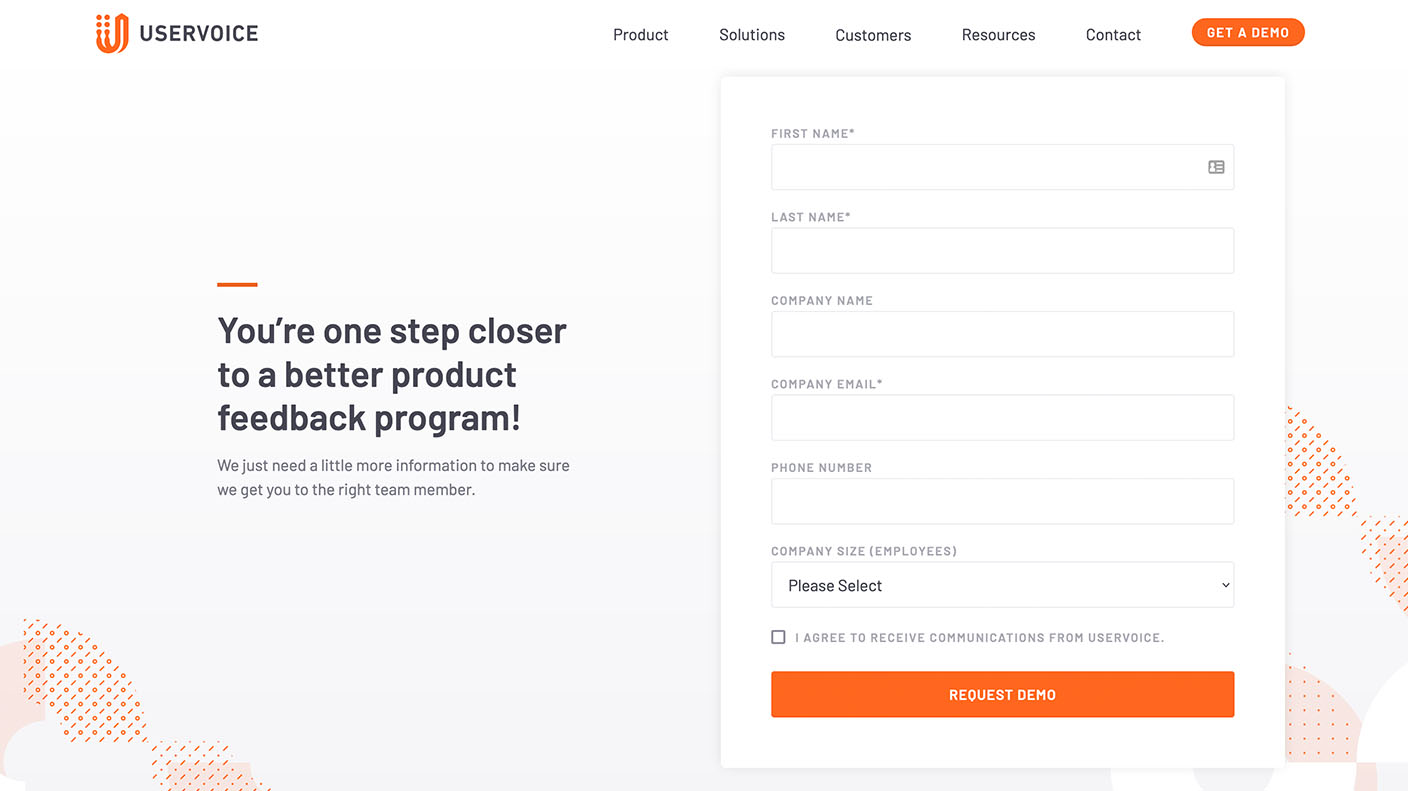 Pros
Established and feature-rich
Different products so you can potentially solve multiple problems
Experienced with enterprise requirements
Offers API access
Cons
Does not disclose pricing
Expensive (starting at $500/month)
No self-service onboarding. Requires you to sit through a sales/screening call.
Some find the user interface confusing
Support only available by phone
Boards in English only
Pricing
Starts at $500/month (as of the last time the company disclosed their pricing).
Bottom line
UserVoice is a feature-rich software solution best suited for large companies. It comes with powerful analytics, loads of integrations, API access, and a hefty price tag.
How to choose the best software?
Here are 5 things to consider and look for when shopping for feature request software.
Voting: can users upvote suggestions?
User voting is crucial for product management as it lets you know which features your users value most. Looking at how popular a feature is, you can make clear prioritization decisions such as whether it belongs on your roadmap or not.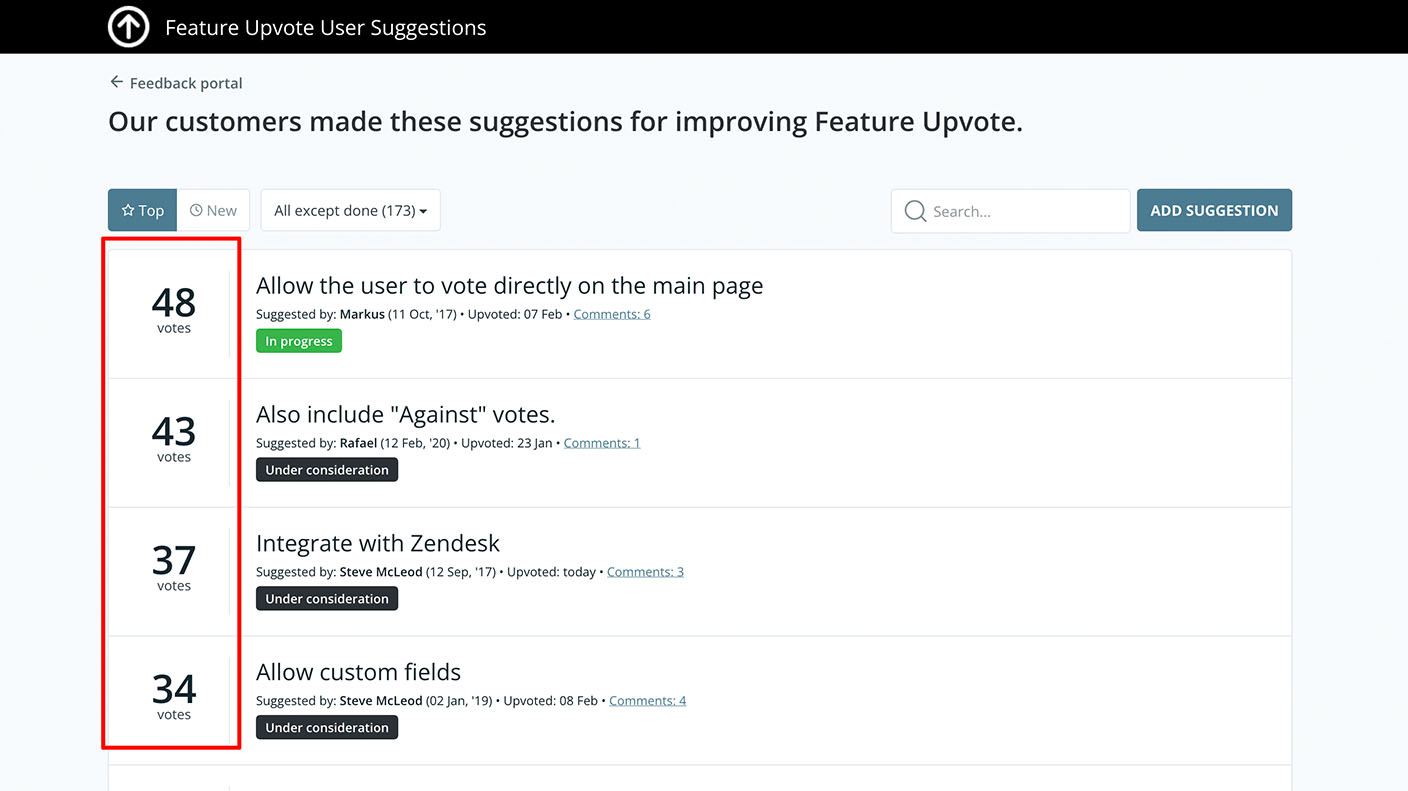 Log in: do customers need to log in to submit a request?
If your customers have to log in to submit feedback, a lot of them aren't going to bother. That's valuable data, gone.
We recommend choosing a tool that removes that friction and lets users interact with your board without having to log in or create an account.
You'll need to make sure they have an effective spam shield in place as opening up your board to the public can lead to abuse.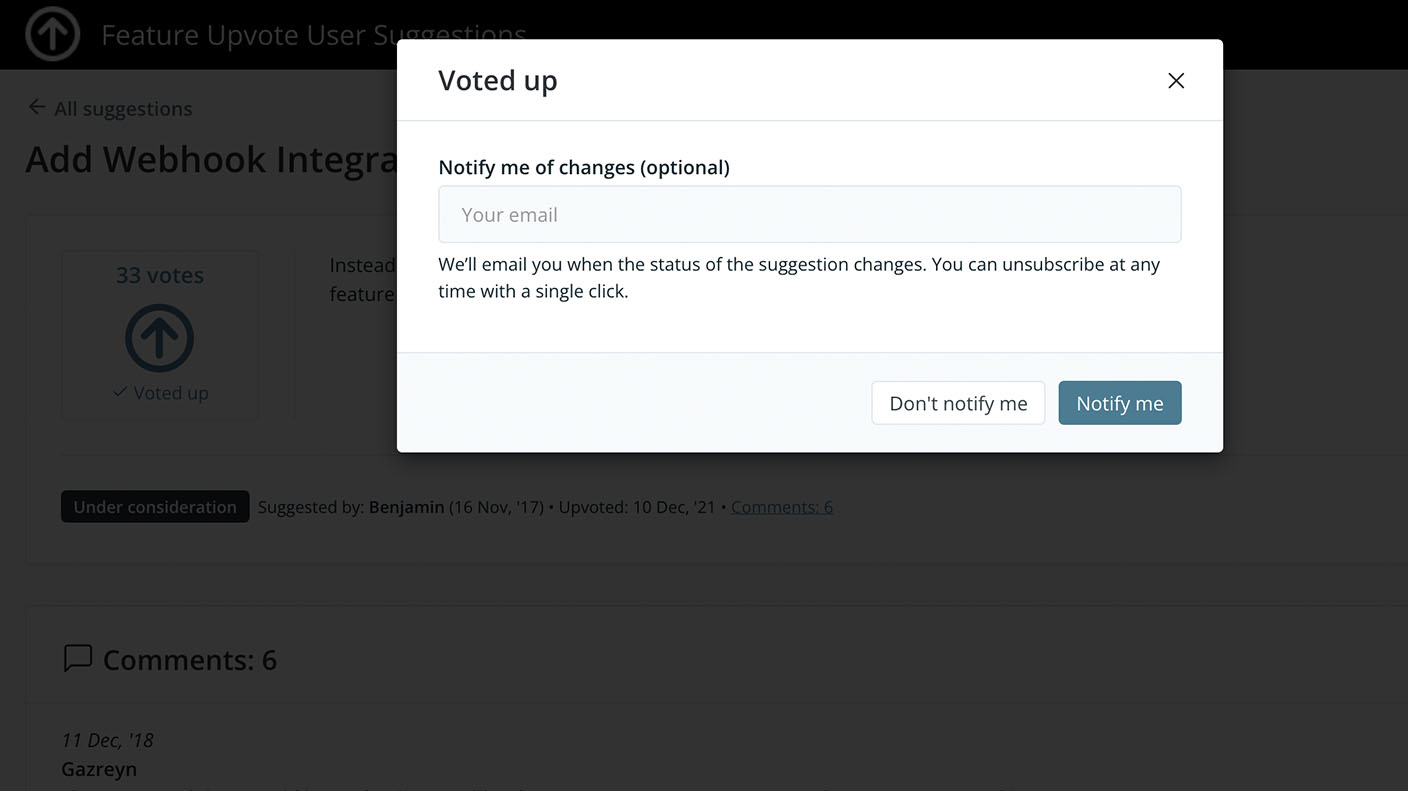 Pricing structure: per board, per seat, or per entry?
Some software companies charge per board, others per team members, and others per tracked user. Some lock access to features in their lower pricing tiers while others include all features from their very first tier.
Choose a pricing structure that fits your budget and can scale with your business as you grow.
Private boards: for internal use and proxy voting
Collecting feature suggestions from customers is one use case of feature request software. Some of our clients use Feature Upvote to gather suggestions from their employees or to track feature requests via proxy.
If you're interested in using a feedback board internally, make sure the software you choose offers the option to lock a board with SSO or password protection.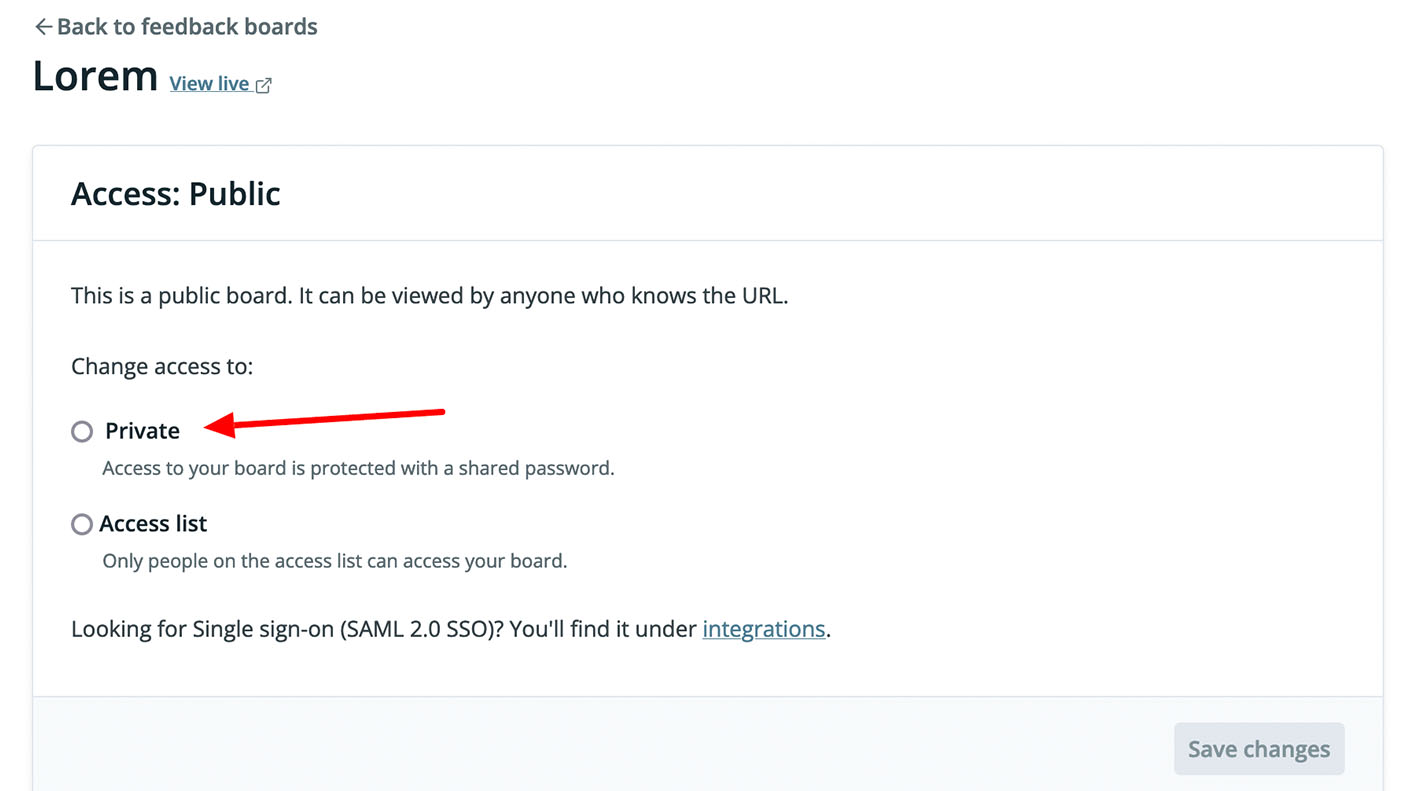 Integrations: how well does it blend in with your current system?
Before making your final choice, double-check to make sure the software you've chosen has integrations for the tools already in your toolkit so that it enhances (not disrupt) your existing workflow.
Using integrations like Slack, Trello, Jira, Freshdesk, Airtable, and Discord will make your feedback loop tight and incredibly efficient.
Why use feature request software?
If you're still using spreadsheets or GitHub to collect and manage feature requests, using the right software can make your life–and their life–a whole lot easier.
Can you imagine having all requests neatly organized in one clean dashboard, sorted by popularity, and knowing exactly which issue to add to your roadmap next to create the maximum impact?
You'd also be able to interact with users that contributed their feedback, ask them follow-up questions, and give them status updates on the features they asked and voted for.
That's precisely what feature request software is for. It provides you, your team members, and your users with a centralized place to share feedback and evolve your product in a way that matters to those that use it.