What is the best idea management software for teams? (10 options)
Your team is the source of many great ideas. Amazon Prime was at least partly inspired by an employee who disliked the complicated order pipeline at the time.
Here are 10 software solutions that should help make online idea management easier, more inclusive and more likely to surface great ideas.
Simple idea management solutions
If you're not an enterprise company, or simply don't want complex software, then there are simple and inexpensive options for encouraging employees to share ideas.
Feature Upvote provides a simple ideas board with in-built voting functionality. Employees add their ideas to an online idea board, where colleagues can upvote them – or not. Management can use simple status updates to show employees what is happening to their suggestion. Costs from $79/month if you pay yearly, $99/month if you pay monthly. Custom domain and Single Sign-On (SSO) as standard.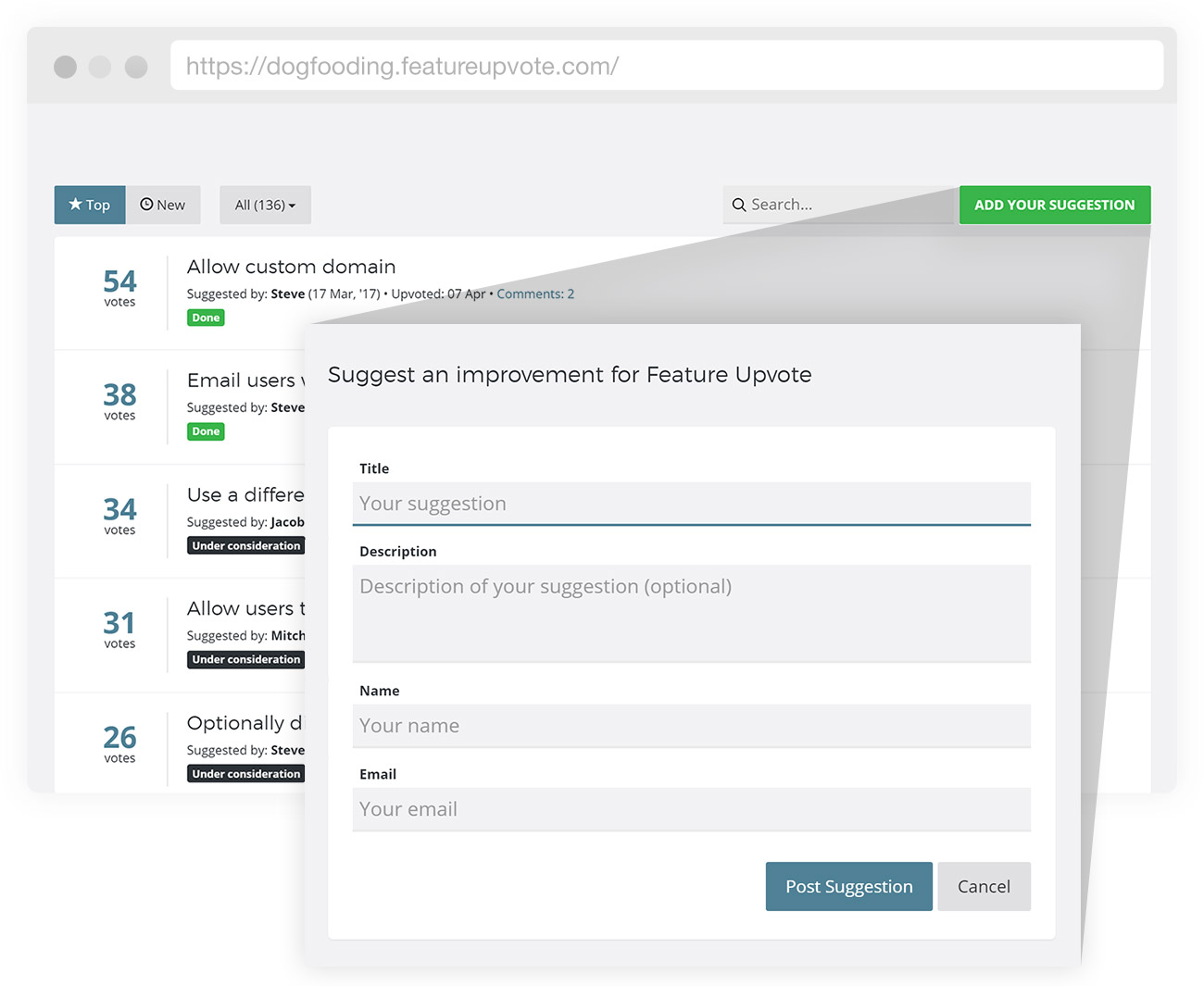 Online employee suggestion box. Employees can submit ideas, with the option of them being rated (by a star/comment system rather than by voting). You can also easily extract data such as who's submitting ideas, who's commenting and what's been implemented all in the date range of your choice. Prices start at $99 per month for up to 60 users. Single Sign-On (SSO) and customisations are an optional extra.
Trello is designed for teams that want to work collaboratively. So although it isn't specialised idea management software, it can be used for this purpose. You just need to be organised about how you manage your Trello board (or boards) and, preferably, encourage everyone to have a Trello account. This way you can use the voting functionality. Free for basic use. The business plan costs from $9.99 per user per month.
Enterprise idea management solutions
This type of software is also called 'innovation management software' and is typically aimed at large companies. It tends to be full-featured, with plenty of options about how you want to manage and process ideas.
The downside of this type of software is that is can be expensive and complicated.
Established and full featured idea management software. "You can even manage the digital transformation of your entire enterprise all on one easily configured software." Includes enterprise customers like GM and Adobe as clients. Doesn't advertise pricing on its website. You need to contact the company for a demo.
Established idea management software for enterprise companies and large organisations. Clients include Sky, Ericsso and the NHS. "Runs every stage of your innovation funnel: from idea capture and refinement to evaluation, execution and impact analysis." Prefers an implementation process with hands-on consultancy. Doesn't advertise pricing on its website. You need to contact the company for a demo.
Suitable for enterprise companies, but prides itself on still being easy to use and relatively affordable. Used by universities and government departments such as Glasgow City Council and the United States Department of Agriculture. Doesn't advertise pricing on its website. You need to contact the company for a demo.
Flexible enterprise solution that "can adapt to even the most complex innovation environment with just a few clicks". Clients include Telia and L'Oreal. Free for up to 50 users with one board and basic features. Premium plan is £3 per user/month. The enterprise plan has scalable pricing.
Crowdsourcing and market research solutions
Spigit is an enterprise product with clients in 170+ countries, including companies like Siemens and Campbell's. I've included them in this category because they make a feature of allowing you to crowdsource ideas from customers, as well as employees. No pricing on the website. You need to contact the company for a demo.
The main focus of Ideascale is crowdsourcing, rather than employee engagement. You customise your 'innovation community' and reach out for feedback. Their software also allows you to refine, review and implement ideas with powerful features and integrations. Pricing starts at $4,999 annually (with a two year subscription) and set up costs may apply.
Codigital can be used for brainstorming within your organisation, or for crowdsourcing ideas at a conference or from a similar large group. It is based around vote driven competition – so the best ideas survive to the end of the process. Free for a basic plan. £2 per participants for focus groups. Ask for quote for corporations.
How to choose idea management software
Start by asking yourself a few questions:
How much do I want to spend?
Is flexibility and power more important than simplicity and ease of use?
How do I want ideas to be prioritised and responded to?
Do I want to invite ideas from our team or also from a wider community?
Do I need a company that has a proven track record of working with enterprises?
Your answers should help you narrow down the options.