Track feature requests with a feedback board
Gather your feedback in a feedback board. Customers add and upvote feedback. You discover the most valuable product ideas.
Start your free trial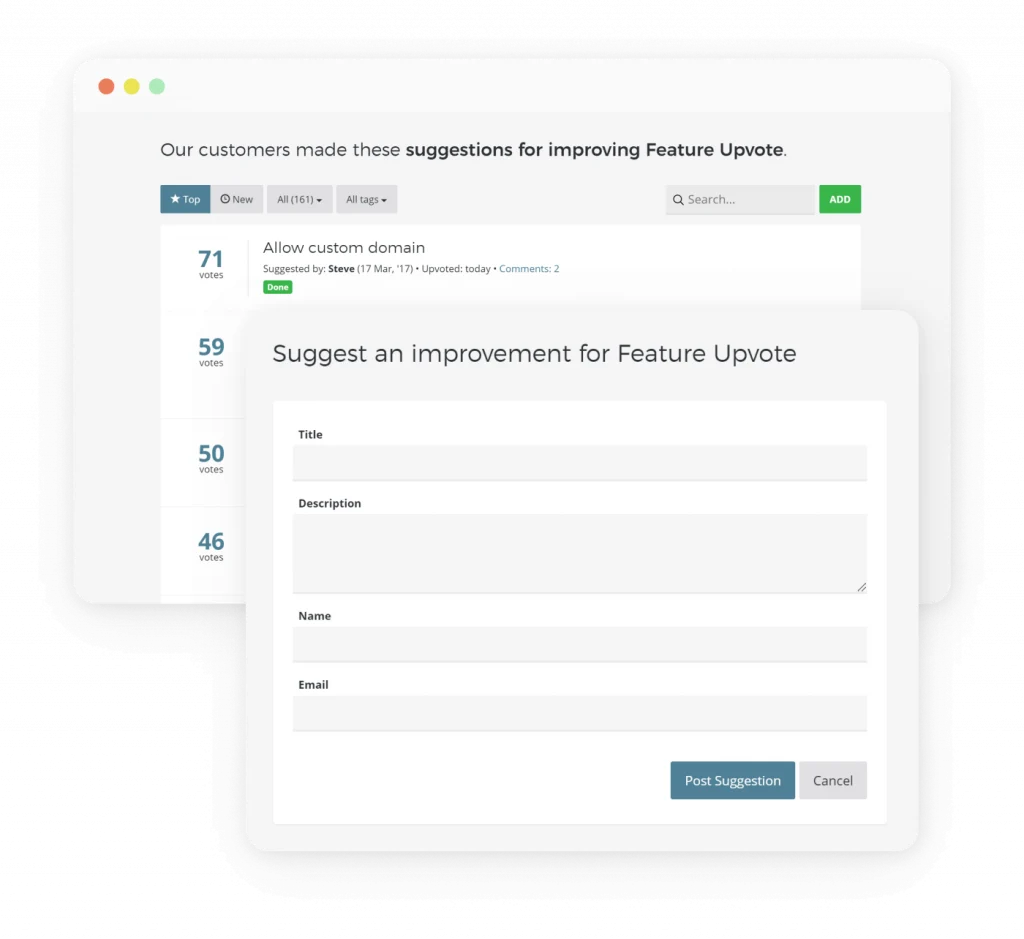 Customer feedback
Capture and prioritise customer feedback in one place
Collecting and prioritising feedback doesn't have to be complicated or expensive.
With a simple feedback board you can collect suggestions in one place and see what your customers really need. Boards are easy to use for contributors and for moderators.
Spend more time on the rest of your job with a simple feedback board.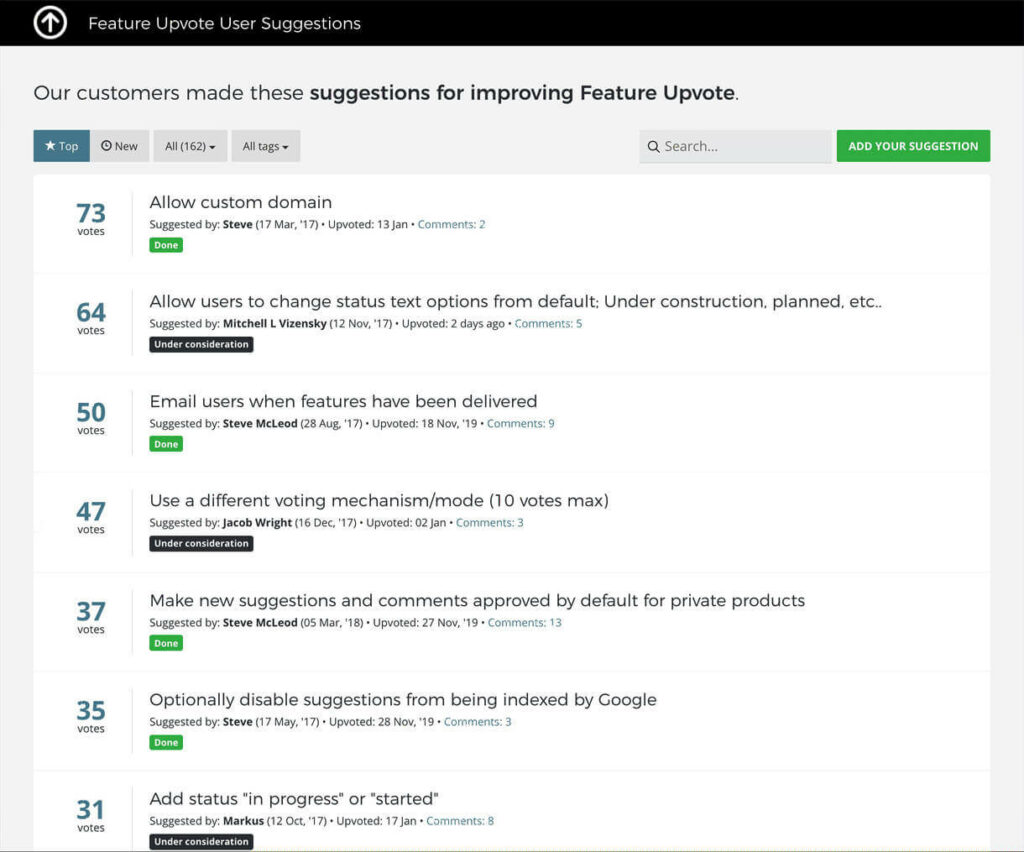 Product roadmap
Match your product vision to actual customer need
Get direct insight into how customers experience your product. Test your assumptions before you build a product roadmap.
Patrick Hathaway, co-founder of award-wining SEO tool Sitebulb, says:
Through the months we were in beta, we had decided on a set of launch features. We had actively decided that some features and settings didn't fit with how we expected people to use Sitebulb. Feature Upvote has helped us realise that we made a mistake by omitting some of these.
Read other customer stories
Customer satisfaction
Increase customer engagement and satisfaction
Closing the feedback loop boosts customer satisfaction and engagement.
Customers see what you intend to do with their feedback ('under consideration', 'done' 'not planned' and so on). They know you have taken their feedback seriously.
Wow! Great that you use this feedback board

a customer of Heutink-ict
How Feature Upvote Works
Create your branded product feedback board in two minutes. Make it private or public. Invite your customers or team members to help improve your product.
Customers or team members add their own ideas and upvote others. The most popular suggestions rise to the top of the list.
Completed ideas show as "DONE". Mark others as planned, under consideration or not planned. All contributors see that you care about their feedback.
Designed for busy product managers
We know you're busy. So we make Feature Upvote as quick and easy to use as possible.
Weekly update email
We send you a weekly email showing all board activity. This way you can see at a glance what's been happening on your board.
Quick to moderate
Approve suggestions and comments in bulk, merge suggestions and comments with one click, or even turn off moderation entirely.
Key integrations
Feature Upvote integrates with Jira, Slack, Microsoft Teams and Zapier so it fits in with your existing workflow.
Everything you need. Nothing you don't
Get started in minutes rather than days
Make your board public or private (with a password or Single-Sign On).
Works on any device, whether your customers have mobiles, tablets or laptops.
Customise your board so it looks like yours using a number of options including a custom domain name (free on all plans).
10+ languages

supported (we have customers in 30+ countries around the world).
Easy to set up and manage multiple boards in different languages or for different products.
Serious fraud prevention measures — and we take your security very seriously.
Try Feature Upvote for free for 30 days
No credit card required
Save 20% with yearly pricing