Without the right systems in place, tracking feature requests is laborious. And a lot of valuable product insight slips right through the net.
In this post, you'll learn 3 strategies for managing user feedback without hassle.
In fact, these are the exact strategies we have used at Feature Upvote to track over 200 product suggestions.
Let's jump right in.
How to manage feature requests?
Collect feature requests in one place
Feature requests can come from anywhere: customer support, social media, sales and marketing teams, chatbots, product reviews.
To keep track of these, collect feature requests in one organised place.
There are two ways to do this.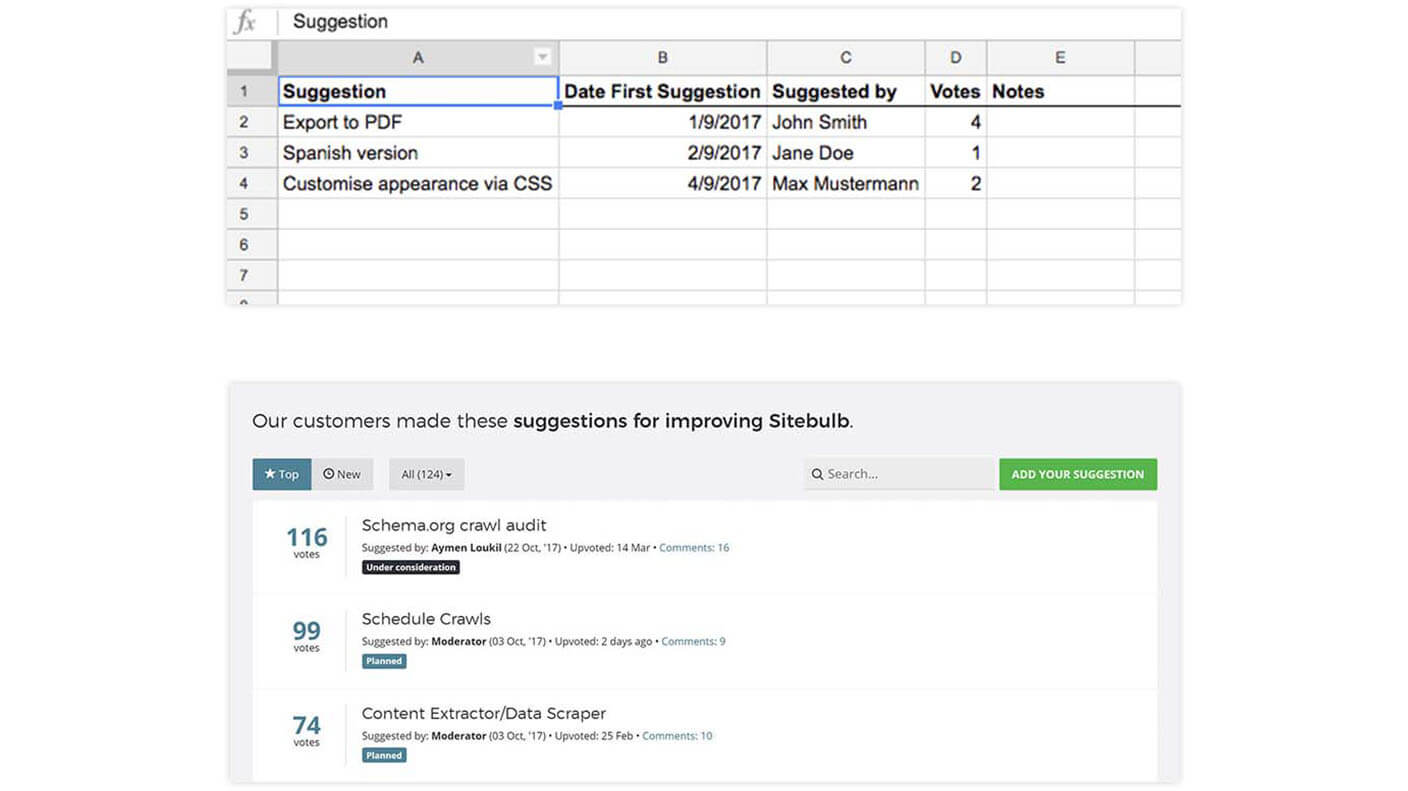 Option 1: Track feature requests manually
If you're a small and financially-challenged startup, a Google sheet could work. Or you could use Notion, Trello or Jira to track feature requests and votes.
This do-it-yourself solution is only as good as your dedication and process.
You need to regularly move feature requests to your Google sheet or Notion page. Then add a vote for duplicate suggestions rather than repeat them.
Here are four tips for tracking feature requests manually:
Try setting aside a time slot every day to deal with feature requests. Encourage other team members to do the same.
If the document is collaborative, make sure everyone understands how to use it.
Ensure team members won't add duplicate suggestions without checking previous suggestions first.
Encourage team members to split requests that contain more than one suggestion so you never have more than one suggestion per row.
The main disadvantage of the DIY approach is that it is overwhelming. Even small companies can generate many feature requests. Regularly ignoring them can lead to missed business opportunities and annoyed customers.
Read next: More on the pros and cons of Trello and Jira for Feature Tracking
Option 2: Track features with feature request software (like Feature Upvote)
If managing feature requests manually seem cumbersome, try feature request tracking software instead.
The advantages of this type of platform are:
Efficiency: customers add feature requests themselves to your feedback board. Therefore, you spend much less spend tracking and collecting them.
Functionality: Such products usually have built-in voting functionality and can spot duplicate suggestions, so you don't have to worry about manually sorting them out.
Cost: This type of feature tracking product doesn't need to be expensive. Here at Feature Upvote, we charge $79/month if you pay yearly or $99/month if you pay monthly.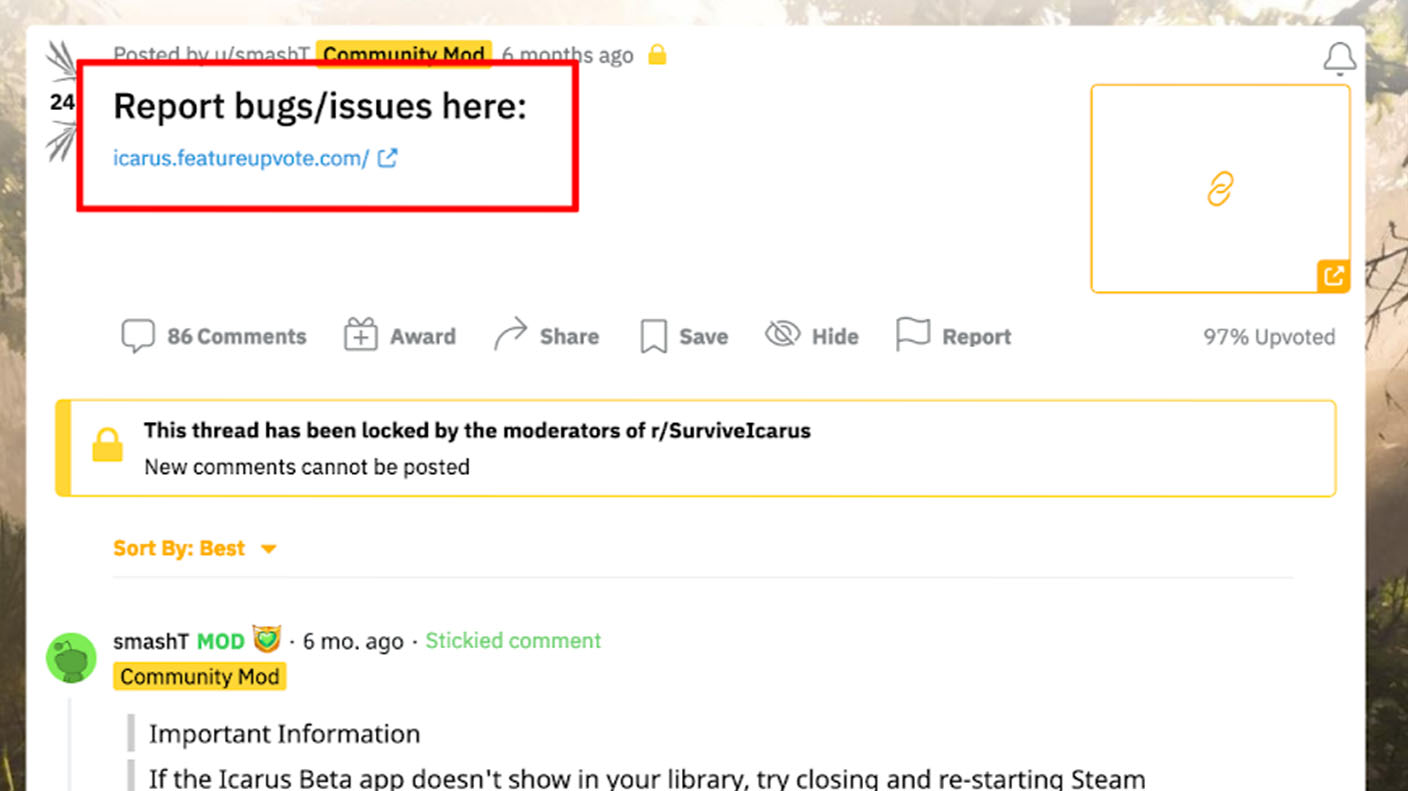 Show customers you care about their feature requests
Here's another effective strategy for managing feedback. Respond to all the feedback that comes in.

Acknowledge each contribution regardless of whether you plan on using it or not. This creates a positive feedback loop. It encourages your users to send in more suggestions in the future.
Go beyond the robotic and soulless "thank you, we've received your request".
Show them you care and let them know their input makes a difference. Let them in on how you manage feature requests and tell them whether they should expect to hear from you or not.
Here's an example:
Hey there,
Thank you for your suggestion.
We add all feature requests to our feature request document, using a voting system to track duplicates.
Every month we then consider the top 3 suggestions, based on whether they are workable and fit in with our vision for the company.
We'll be in touch if we plan to implement your suggestion.
Please do contact us again if you have any more suggestions. We love receiving customer feedback and it directly informs our product roadmap.
Next, communicate with the people that contributed to a request when you add it to your roadmap:
Let them know when they can expect the feature
Ask them follow-up questions to refine the feature if needed
Invite them to beta test the feature once it's ready
Most feature request platforms let contributors opt-in for email notifications. This allows you to notify them when the feature they contributed to gets updated or released.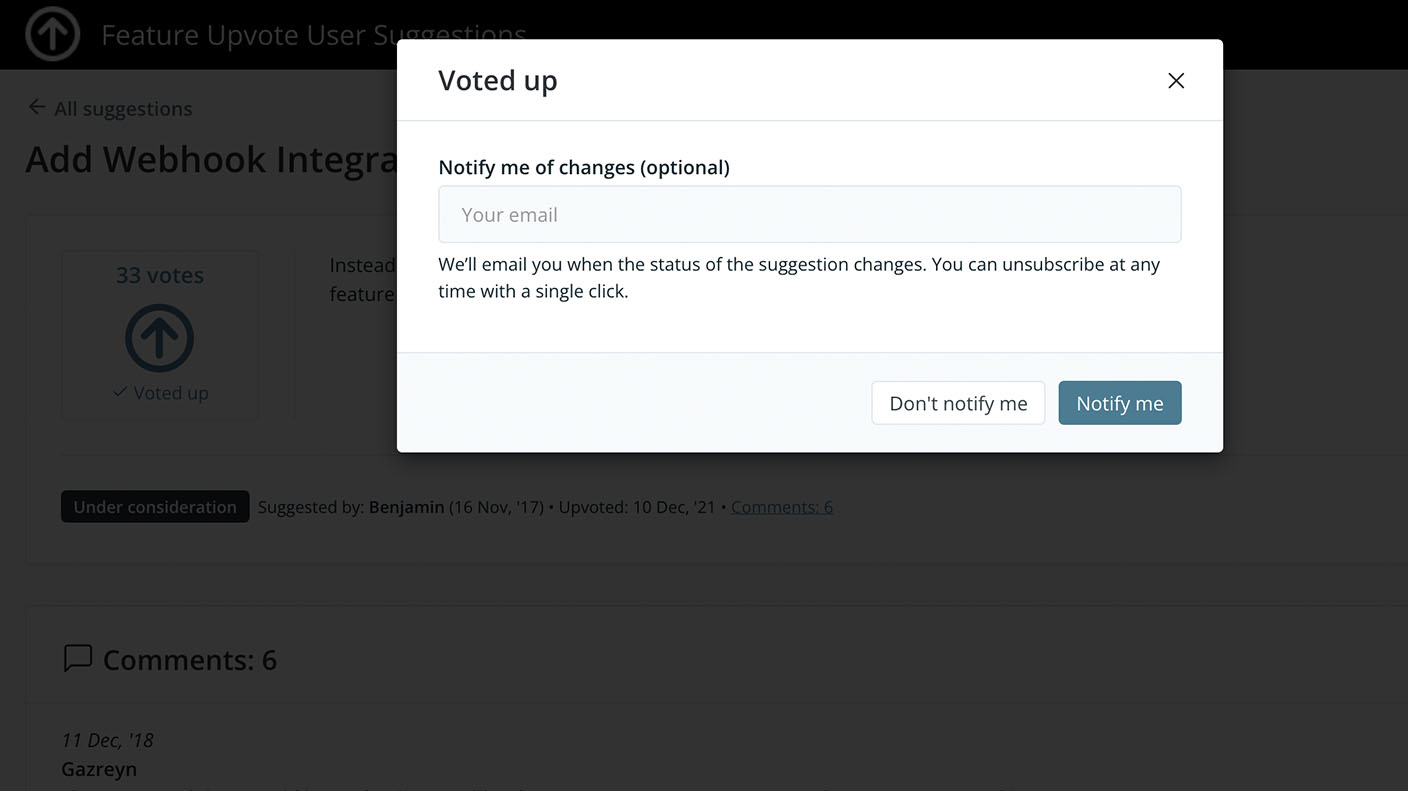 The bottom line is: Don't leave contributors hanging. Keep them in the loop.
Something as simple as tagging the requests—"under consideration", "done", "not planned", and so on—will show customers that you are actively working on suggested features. It's also a good way to diplomatically tell them what you don't plan to work on.
You may worry about competitors seeing what you're working on. If so, you can make your feature request board private through Single Sign-on or a password.
Related: How to say no to feature requests
Tag feature requests to help you identify important opportunities
Tag features request as they come in to help your team find and sort through them.
There are two types of tags we've found effective for managing feature requests.
Audience tags (who submitted the request?)
Some customers are more important than others, for financial or strategic reasons.
Consider using tags to highlight useful information about that customer.
For example, the requests you get from customers during their trial period are often sales blockers. Tag them and consider giving them more weight in your product roadmap.
Or you could tag a customer segment you're exploring (#teachers, for example). Then, review it to identify whether you're achieving product/market fit for this audience.
Thematic tags (what type of request is it?)
Tags can also help differentiate feature requests by type:
Bugs: the user noticed something that isn't working as it should
Product enhancement: minor tweaks to the way the product is working
New features: broaden the scope of what the product can do
Product ideas: user suggestions that beg a dedicated product
What is a good feature request?
A feature request is an idea for improving your product. It usually comes from your customers or your employees—customer service, sales, marketing.
Product managers track feature requests to understand which features to build next. The more requested a feature is, the more likely it is it will make it onto the product roadmap.
For that reason, a feature request will be easier to manage if it:
Describes a single function. A future request trying to do too much will be difficult to track. Product managers will first have to break it down into smaller, single-focus chunks.
Speaks to other customers. Clearly-worded suggestions will lead to more upvotes and fewer instances of duplicate requests. The user needs to be able to quickly see if the feature they want already exists in the backlog, or not.
Describes the request in detail. The more details you get from your customers, the better. An issue that is open to interpretation can send you on a wild goose chase.
Fits the brand. Sometimes even the best feature ideas will not be a good fit for your roadmap. It may go against your positioning, for example.
Feature Upvote: Simple feature tracking software
We provide feature request software at a competitive price. It includes voting and all the functionality you need to manage customer feedback.
We offer a 30-day free trial so you can see if we're a good match for your company.
Competing products are much more complex and much more expensive. For the functionality we're looking for–a simple feedback community–the features we get are actually better than I expected and at a price that we can afford.

Heather Paunet, Untangle's VP of Product Management