Customer feedback tools help you listen to what your customers want and decide what's important.
There are so many tools out there. So which should you use?
In this article, we'll review the 12 best customer feedback tools of 2022 and share tips on how to choose the right tool stack for your business.
Let's dive in.
The best customer feedback tools
Feature Upvote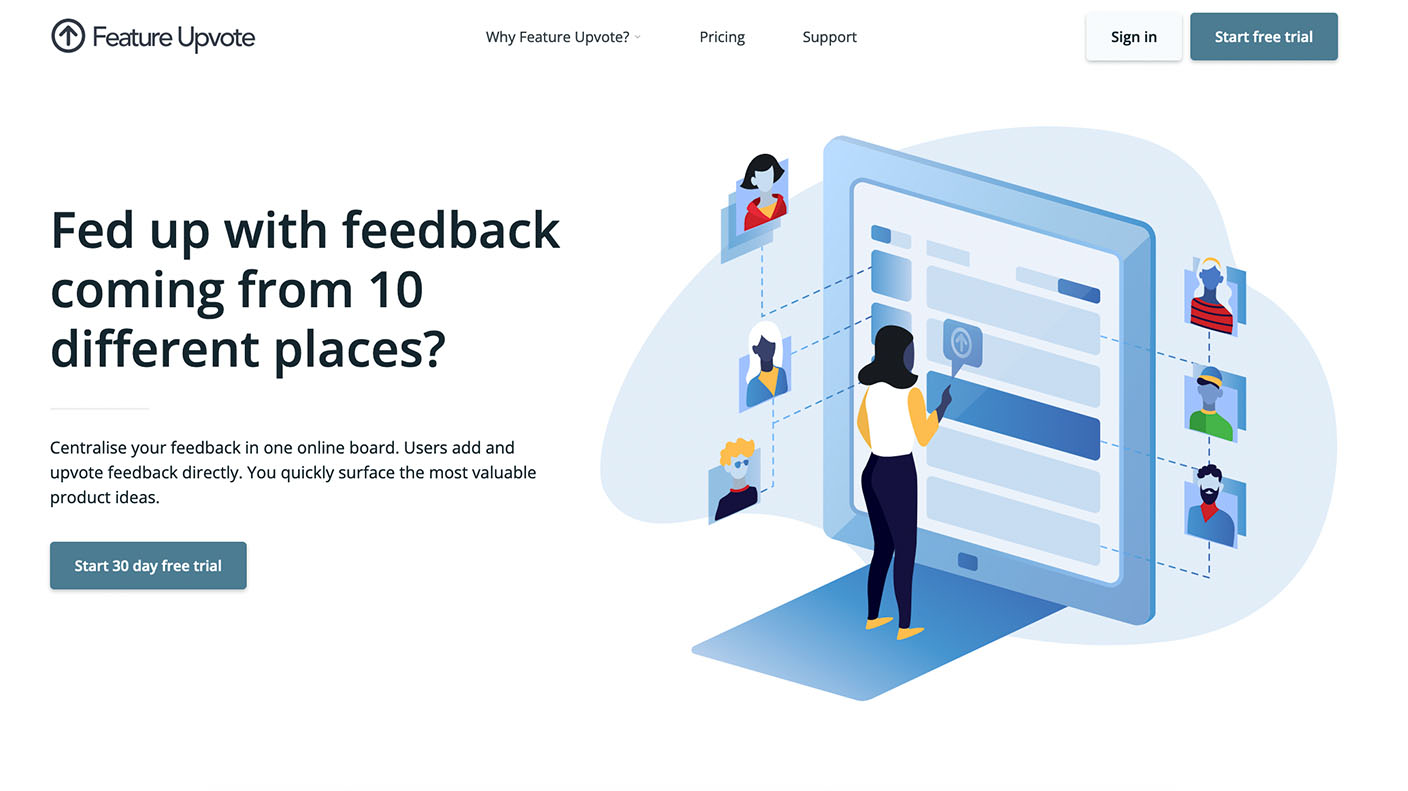 Feature Upvote is lightweight feedback board software. It is collaborative. Users can submit feature requests. And they also can comment on and vote for other people's suggestions.
It makes it easy for product managers to gather feedback from their team and customers and prioritise it.
With Feature Upvote, you can see which requests are getting the most interest. So you always know your team is working on the features that matter most to your users.
There are many product feedback tools out there. Feature Upvote stands out because it is simple, purpose-driven, and easy to use—for both admins and customers.
Feature Upvote costs $99/board/month ($79/board/month if paid yearly). All features come as standard. This includes unlimited contributors, admins, boards in 12+ languages, and a half-dozen integrations.
Want to try it out? You can test-drive Feature Upvote free for 30 days.
UserVoice
UserVoice is a complex, all-in-one product management tool for large enterprises. It lets you collect user feedback, build roadmaps, and estimate the profitability of feature requests.
Though their pricing isn't public, UserVoice is an expensive tool. In 2016, their lowest pricing tier was $499/month. Today, UserVoice supposedly starts closer to $1000/month.
You can try UserVoice for 21 days free of charge or sign up for a product demo during which a sales rep will show you the ins and outs of the tool.
In another blog post, we go into greater detail about the differences between Feature Upvote and UserVoice.
Saber Feedback
Saber Feedback is the perfect solution if you want to get visual feedback from your users. Asana dubbed it "the original visual website feedback tool".
Saber Feedback lets you add a feedback button to your app or site. Users can capture a screenshot and upload it with their comments to show exactly what their feedback relates to.
This makes it easy for you to understand what customers think about your product and uncover growth opportunities and bugs on your site.
Saber Feedback starts at $49/month for 3 forms with unlimited pageviews and feedback. If you'd like to give it a try, they offer a 30-day trial.
InMoment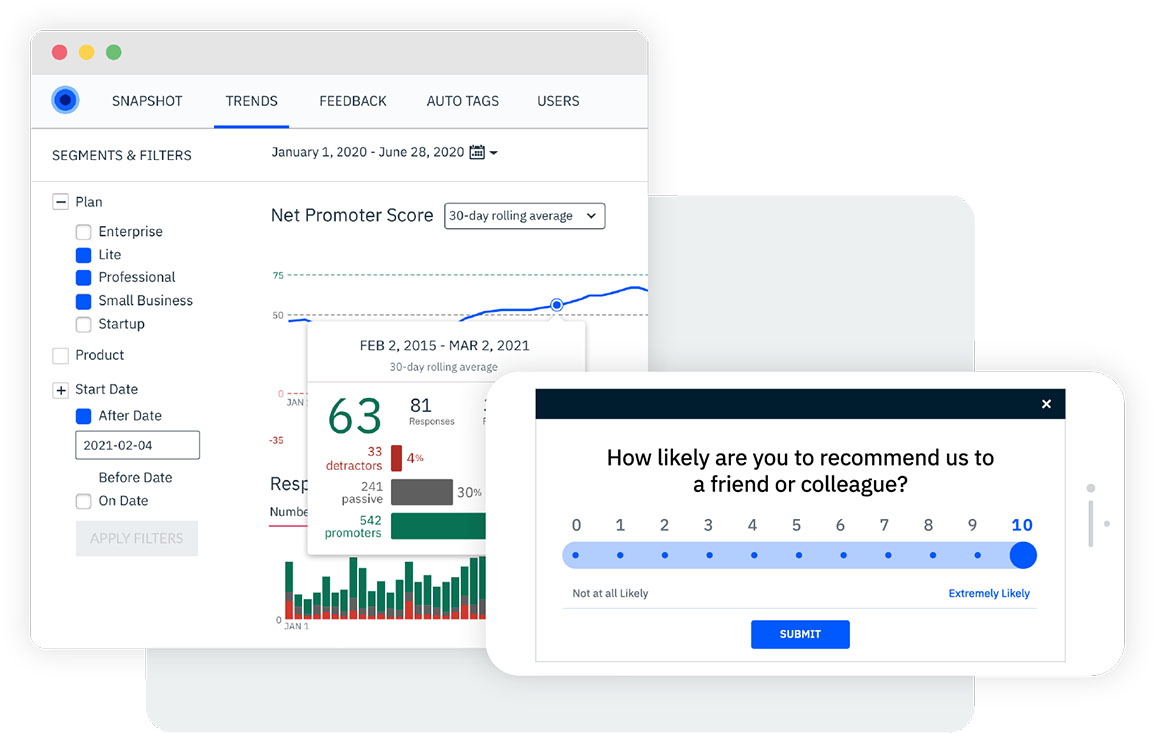 InMoment offers a neat product management solution. It lets you collect feedback from your customers and employees through micro NPS, PSAT and CES surveys.
You can send the surveys via email, SMS and Intercom Messenger. Or you can have them pop up on your site or application.
The robust analytics dashboard makes it easy to discover what users want and how they interact with your product along the user journey. You'll be able to uncover bottlenecks which may be holding back adoption or causing users to churn.
InMoment integrates with Slack, Intercom, Salesforce, and a bunch of other tools.
The company does not display prices on their site. You'll have to sit through a demo call before you can access their feedback tool.
Refiner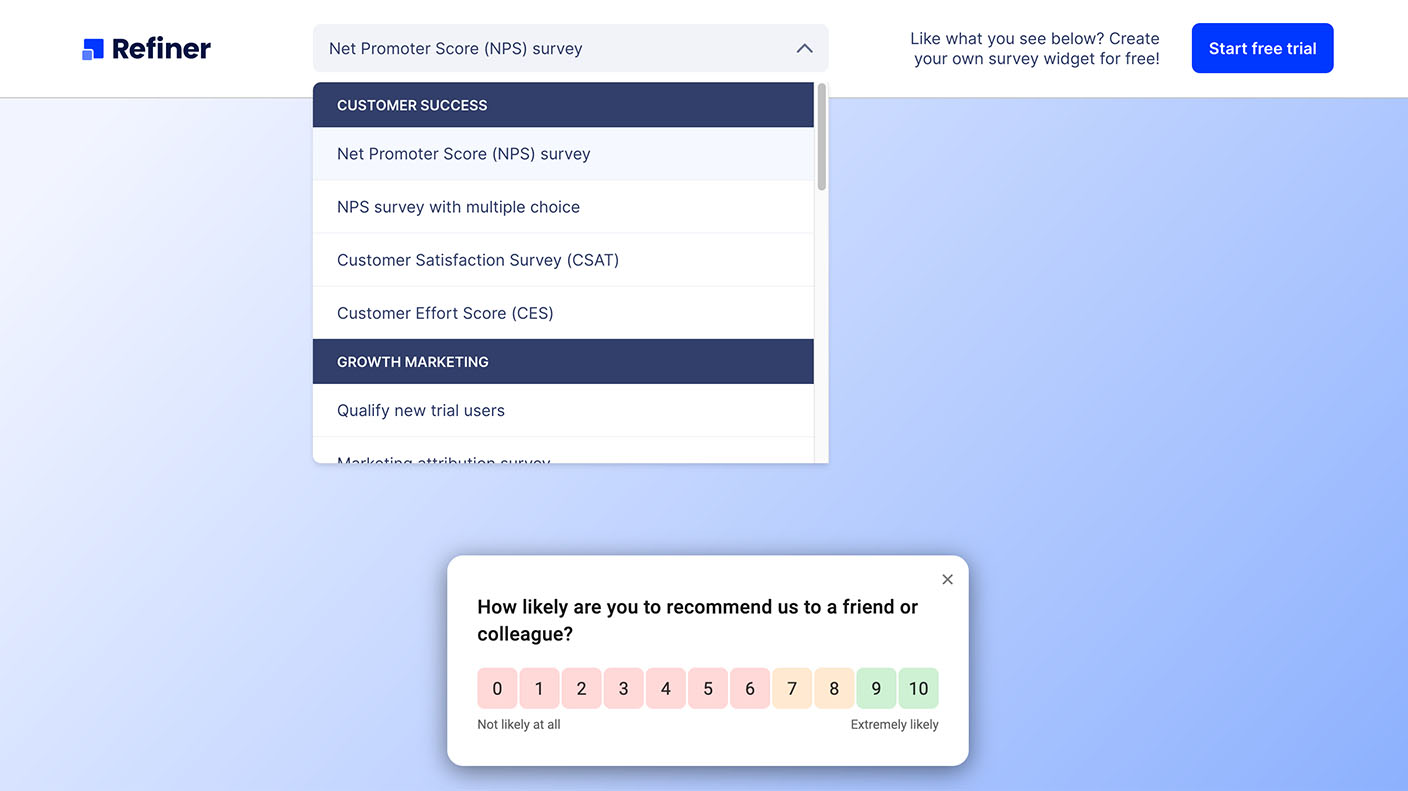 Refiner is a microsurvey solution, tailored to SaaS companies.
Refiner's notable features include customizable designs, versatile question types, and branching logic.
When you log into your dashboard, you'll see real-time insights pulled from the feedback that comes in. The interface is clean and intuitive. And creating surveys is easy.
Refiner's complex customer segments and NPS®, CSAT, and CES ratings allow you to segment and better understand your audience. They give you a sense of where contributors are along the user journey when leaving feedback.
Refiner comes with lots of integrations. You can import, merge, and push data to apps like Zapier, Segment, Make, Productboard, and many more.
Pricing starts at $99/month for 5,000 monthly active users ($79/month if you pay yearly).
Typeform
Typeform is a survey feedback tool with a sleek and easy-to-use interface.
Typeform uses photos, videos, custom layouts, and vibrant themes to make its forms engaging and interesting. This separates it from other "boring" customer survey tools out there.
It also uses conditional logic to serve users with the question most likely to get an answer at any given time.
You can also use Typeform to collect feedback through chat messaging and interactive video conversations with customers. The latter is a service called VideoAsk.
Pricing for Typeform depends on how many form submissions you want and how many users are on your team. The most basic plan is the free plan, which includes 10 questions per month and a single admin. Paid plans start at €25/month.
Reform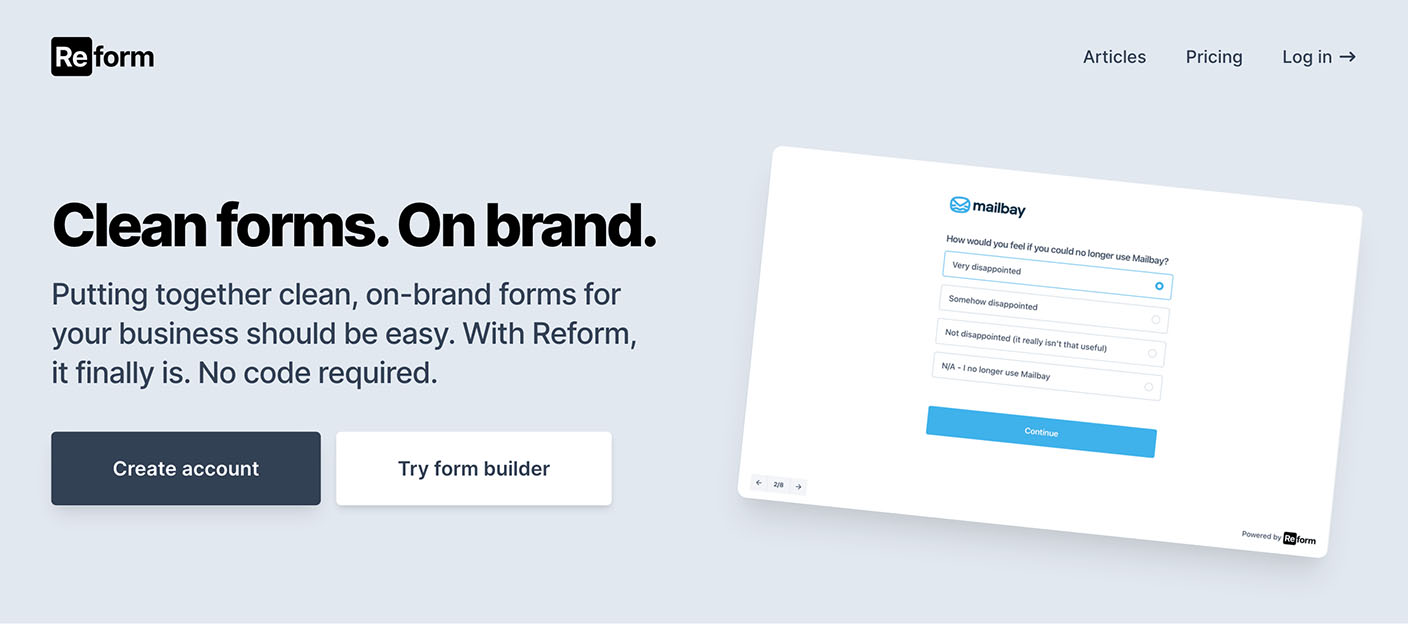 Reform is a customer survey tool. It positions itself as a more customizable and affordable tool than the competition.
Besides, it is clean, elegant, and fast.
Reform lets you can match the forms to fit your brand. You can customize colours, add your logo in the header, and take full ownership of how your form looks.
Most survey tools will present questions one at a time. It's supposed to convert better.
But what if it didn't? Wouldn't it make sense to be able to test a different way? Reform gives you the option to show more than one question per page. We appreciate the flexibility.
Like Typeform and Refiner, Reform lets admins use conditional logic when creating forms. This boosts the forms' relevance and engagement.
When it comes to integrations, Reform only connects to Zapier and webhook for now. Their team says they're building new ones.
Reform is one of the most affordable feedback form solutions. It has a free plan which comes with unlimited responses. If you want to remove branding and create custom thank you pages, upgrade to the Basic plan for $15/month.
Hotjar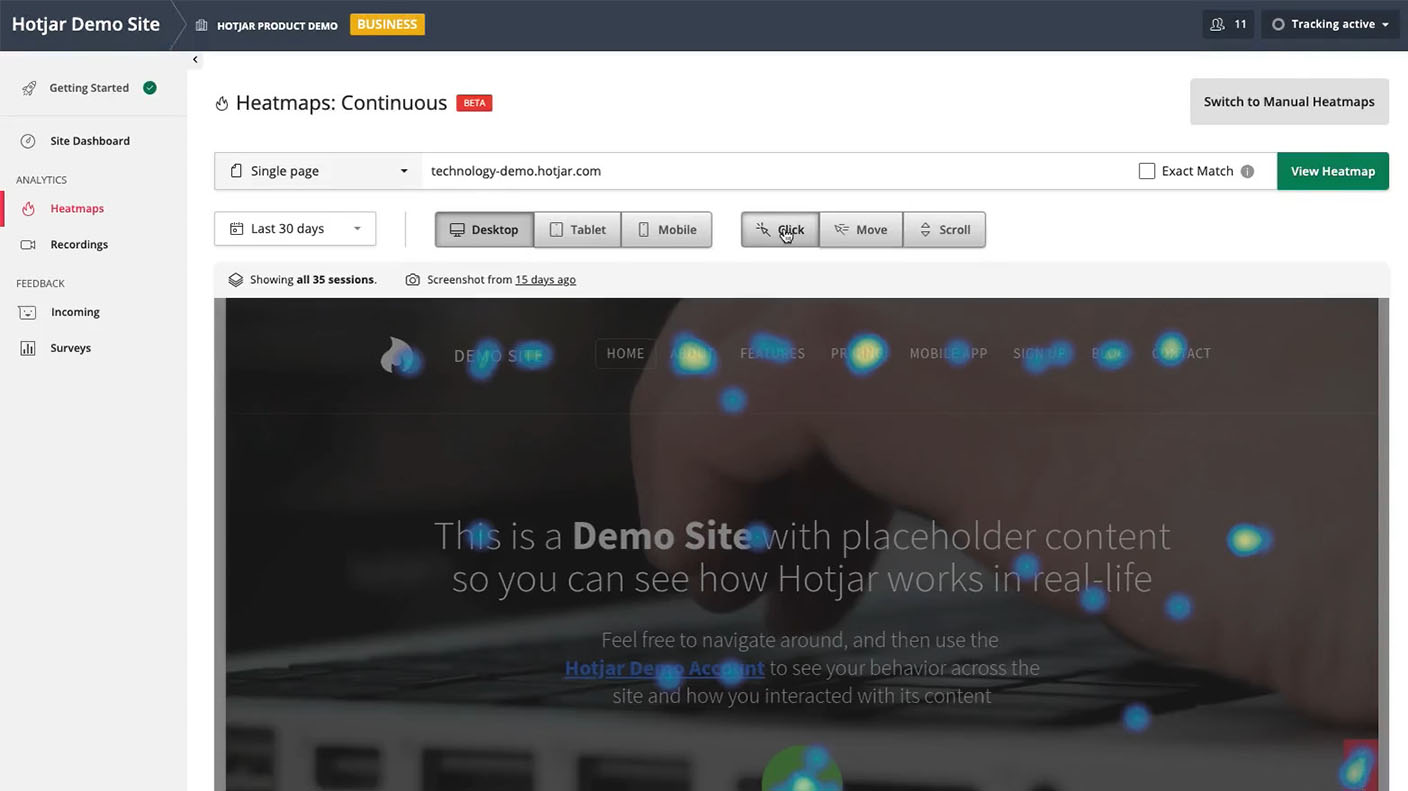 Hotjar is best known for its heatmaps, which show you where users click and scroll on your website. Hotjar can also record your users' screens as they browse your site or app. You see exactly what they see and how they use your product.
Hotjar also offers a visual feedback widget and surveys.
With the feedback widget, users can highlight specific parts of the page they like or dislike. And comment on them. This helps you identify areas for improvement.
As for the surveys, they're easy to make. You don't need any coding. You can share them either on- or off-site.
The Basic plan is free. It includes 35 daily session recordings and unlimited heatmaps. You'll also get 3 surveys and 3 feedback widgets.
UserTesting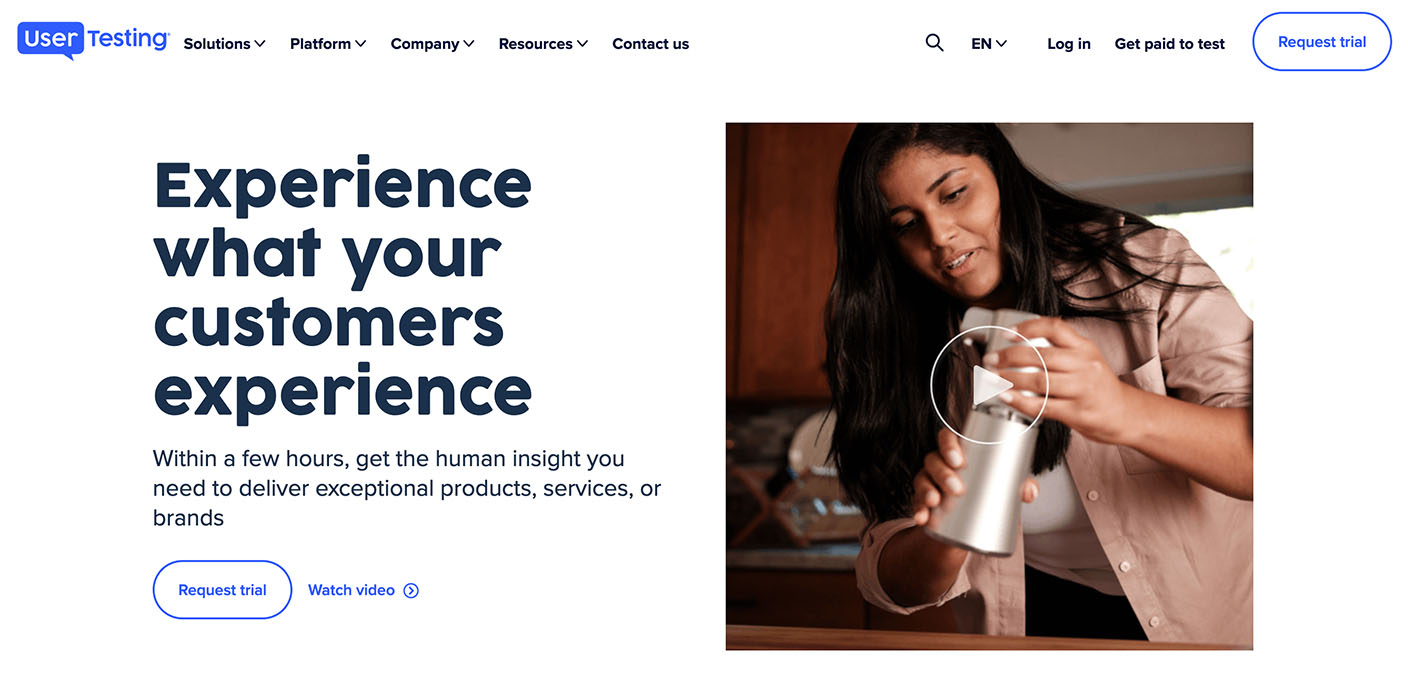 UserTesting is a neat feedback tool that pays people to test products.
It's a simple way to run targeted research groups and see how people use your product.
You choose the conditions of the experiment. Like what you want people to do and what questions you want them to answer.
You then choose your audience—size and demographics. UserTesting will then gather testers from their contributor network. And they'll give you a chance to screen them before starting the experiment.
The volunteers will test your product. They'll record a video sharing what they like, what they don't like, and what they don't understand. You'll receive plenty of suggestions for improvement.
The UserTesting dashboard gives you access to the videos and the transcripts. UserTesting adds timestamps marking the key moments in the video. So you can skip straight to the insights and share them with your team.
They have an impressive client roster. Companies like HP, GoDaddy, and Canva use their services to get feedback for their product.
UserTesting's pricing isn't public and you'll have to book a sales call to learn more and get started.
Qualtrics/Clarabridge
Clarabridge is a customer feedback tool that uses Qualtrics's conversational analytics to translate text into human emotions.
It pulls feedback about your company or product from social media, product reviews, chat, and phone calls. Using natural language understanding (NLU) models, it can understand how the customer feels. Then it tells you what your staff should do or say next.
It can also create automated workflows to improve customers' experiences. Like adding them to a specific email sequence in Hubspot, for example.
Clarabridge has white-glove onboarding. This means you'll have to sit through a sales call before you can start playing with their tool.
Bazaarvoice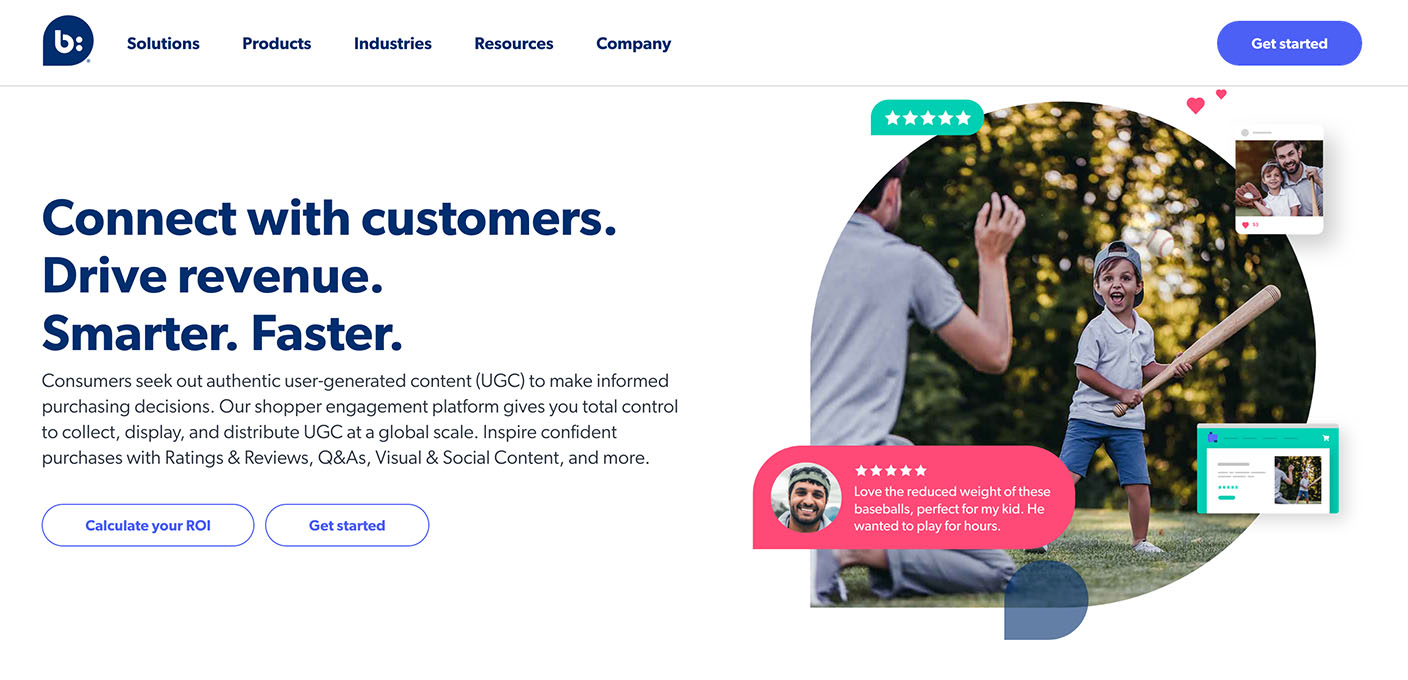 Bazaarvoice is a customer review site designed to help e-commerce sites drive revenue.
It uses customer reviews to create user-generated content. It also distils insights from the reviews. It tells you what new features customers want. Or how they feel about a product compared to the competition.
We particularly like Bazaarvoice's Sampling feature. Sampling matches your products with ideal customers to collect relevant and actionable feedback.
If you're running an e-commerce site and want to make the most of your customer reviews, look no further than Bazaarvoice.
Trustpilot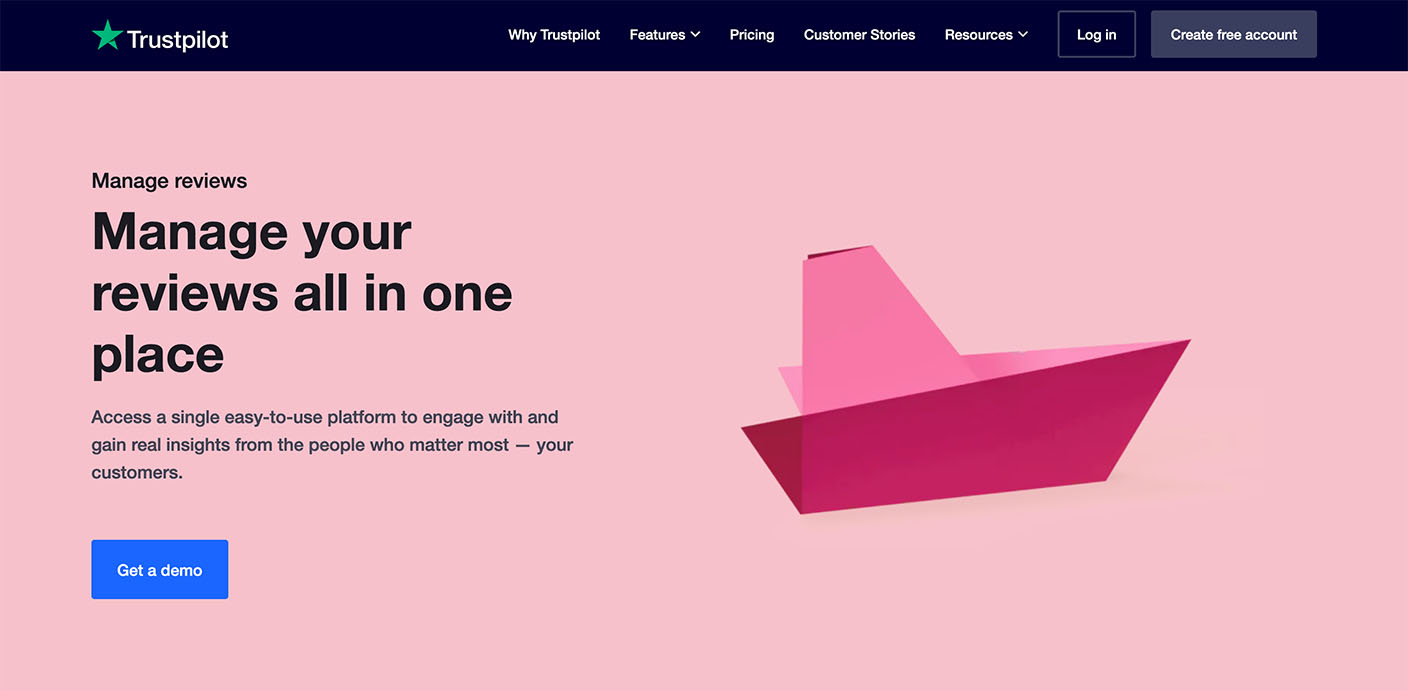 Trustpilot is one of the world's largest customer review sites.
You can integrate Trustpilot with Shopify, WooCommerce, BigCommerce and many other e-commerce platforms. You'll be able to display and collect reviews on your site, as well as send out review requests to your customers.
You can send email review requests from Trustpilot's dashboard. All you have to do is set up time triggers, like 5 days after order date, to invite your customers to contribute.
A simple analytics dashboard will show you how many reviews people are leaving on your page each day. And how your rating is changing over time.
Trustpilot has a free plan which allows you to send out 100 requests and display ratings on your site.
If you want to remove ads on your profile page, get up to 500 review invitations, and access in-depth analytics, you'll have to upgrade to the Standard plan. It costs $225/month.
7 types of feedback tools
There are many different types of customer feedback tools. But here are the most common ones you might want to consider including in your stack.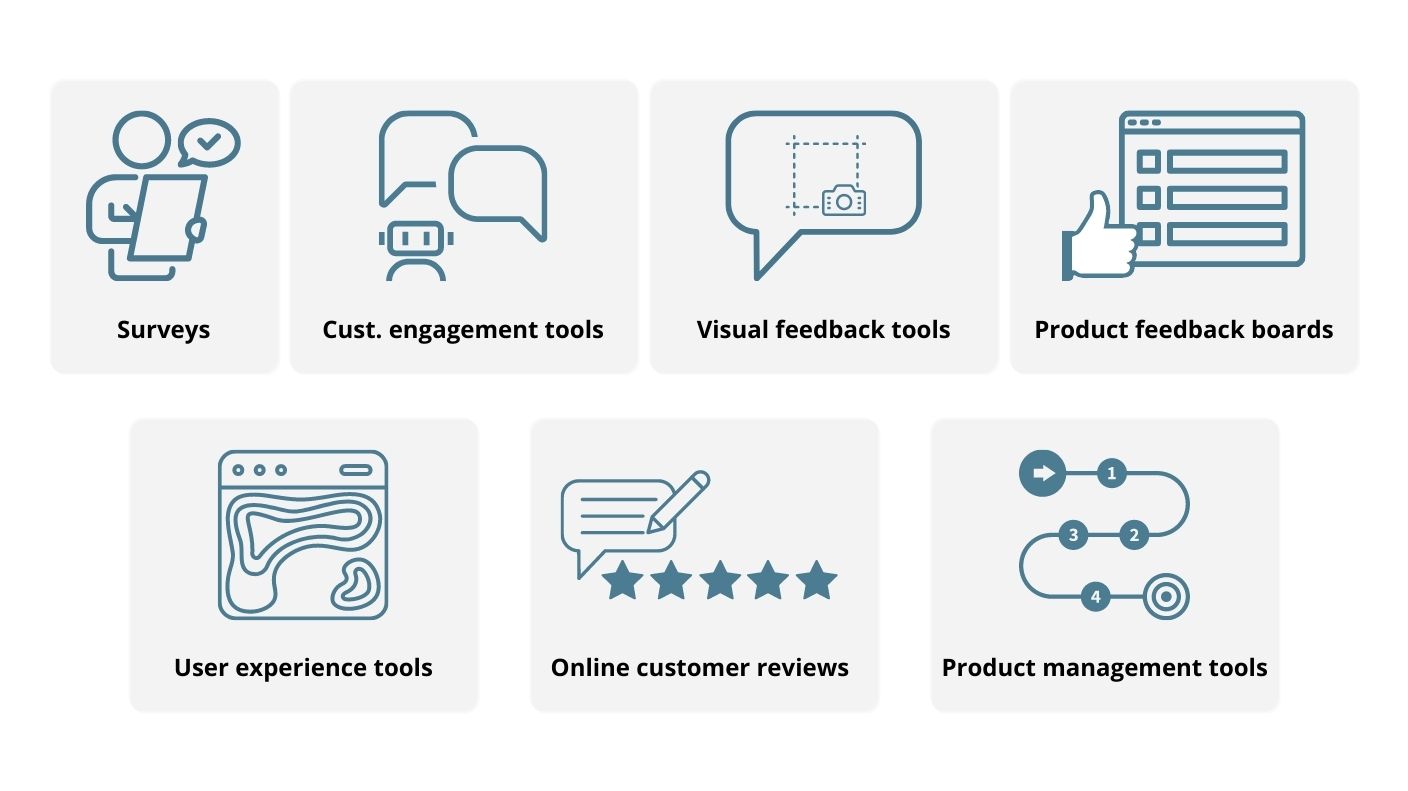 1. Surveys
Surveys and polls are a quick and simple way to get both qualitative and quantitative feedback from customers. Surveys can be embedded on your website or hosted on a third-party website. Once the survey is live, you can invite your customers to answer it by sharing its URL in an email and/or on social media.
2. Customer engagement tools
Customer engagement tools let you engage with customers while they use your product. You can ask customers questions, show them a quick poll or invite them to take a quick survey. Chatbot software falls in that category. It also lets you reach out to customers.
3. Visual feedback tools
Some customer feedback tools allow users to capture any area of their screen and upload it with their feedback. This allows frustrated users to point to the parts of your product they are unhappy with. Visual feedback tools like Saber Feedback display a feedback button on the user's screen. When users click it, they are prompted to write feedback and take a screenshot of what's causing them trouble.
4. Product feedback boards (aka community feedback tools)
Contributors can add their own suggestions, upvote suggestions they like and see what everyone else has suggested. As a moderator, you can respond to feedback and add status updates, so everyone knows what has happened to their idea. Boards can be made public for customer feedback or private for employee feedback.
5. User experience tools
You track and watch the users interact with your product. This type of real-time feedback helps you understand how people use your product. Do they know where to click? How deep do they scroll? Does your design break on their screen? User experience tools let you learn about your users' frustrations, A/B test new ideas, and optimize the user experience.
6. Online customer reviews
Users review your product online. You can then leverage these reviews to boost your brand's social proof by adding them to your app or site. This type of feedback is popular amongst e-commerce stores.
7. Product management tools
Product management tools are more for organising feedback than to collect it. They are designed to help you find out what users need, prioritise ideas and draw up a product roadmap. You could, for example, use project tracking software like Atlassian Jira to gather feedback, vote on it, draw up a roadmap, and deliver on it.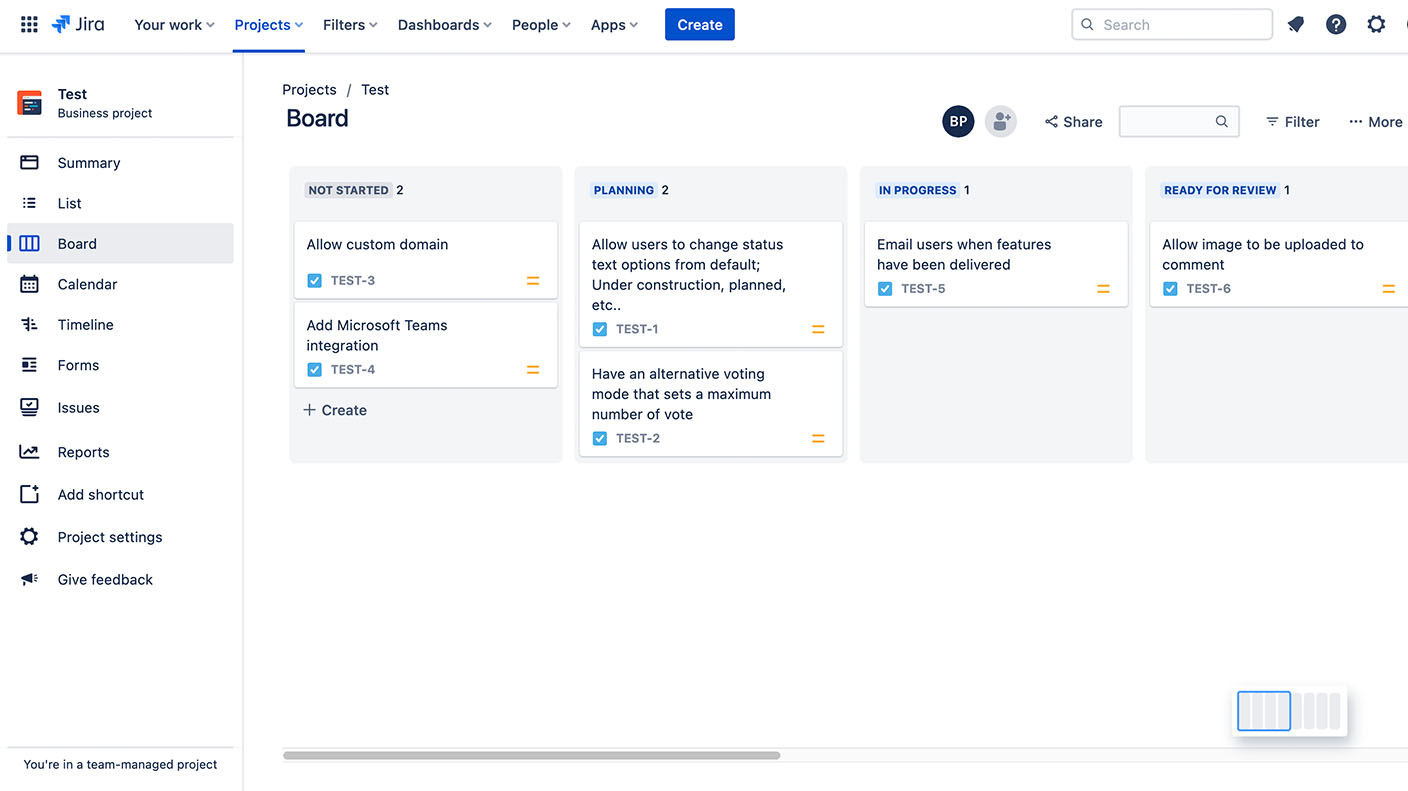 Why collect customer feedback?
Using the right feedback tool can make or break a product. Both your frustrated and excited customers need a place to voice their satisfaction and pains.
Here are 5 benefits of using customer feedback tools:
1. Ensures you're building the right features
Implementing feedback tools is like giving your customers a megaphone. They can express their pain points out loud and give you a chance to solve them (before they bounce).
With the right customer feedback tools, you always know what the sticky points in your product are. You know what challenges your customers are facing and what they'd like you to do about it.
Because you know what your users want, you can make better use of your resources. You and your team spend time on building the features most likely to keep your users around and engaged.
2. Promotes team alignment
Customer feedback provides you with the data you need to prioritise and build a roadmap.
When stakeholders have diverging opinions about the product strategy, customer feedback is here to remind everyone what customers want and where the attention should be.
3. Strengthens customer loyalty
Feedback tools allow customers to be part of the product development process.
Whether you're using a chat, a form, or a board, feedback tools give you the opportunity to interact with your end-users. The great thing is that both you and your customers share a similar goal: to make your product better.
Because they're part of the conversation, they are more likely to not only stick around but become advocates for your brand.
The mistake would be not to acknowledge your contributors, be it survey respondents or support seekers. If your feedback loop is broken, people are going to get frustrated, stop leaving feedback, and seek an alternative product.
Interesting in learning more? Here are 4 strategies to collect feedback more effectively.
4. Reveals opportunities
You may have prototyped your product to work a certain way. But your users will use it however they see fit.
They may not use features you've thought important. Learning that gives you an opportunity to declutter your product.
You may find out they spend a considerable amount of time looking for a particular feature or setting. You can help them by rethinking your design or adding a support article.
Lastly, watching your users interact with your product may also inspire new ideas and use cases for your product.
5. Turn happy customers into brand advocates
Feedback doesn't always come from annoyed or frustrated customers. Happy customers leave feedback too.
Positive feedback makes terrific user-generated content you can use to attract new customers. Testimonials and customer reviews can reassure hesitant prospects and increase your conversion rates.
And happy customers often make great case studies. If someone leaves positive feedback, reach out and see if they'd want to do a customer story on your blog. Here are examples of customer stories we've produced.
Bottom line
Customer feedback tools are indispensable. We recommend combining different solutions for better results. For example, a feedback board, a visual feedback widget, and NPS surveys.
We like feedback boards because they include customers in the conversation about your product.
We built Feature Upvote to help you surface the feedback that matters most to your users. Users can submit suggestions without logging in or sharing any of their private information. They can upvote and comment on each other's suggestions. And admins can jump in at any moment to ask follow-up questions and give status updates.
You can also make your board private. This works well if you want to collect feedback from your employees or want your customer-facing teams to submit feedback on behalf of customers.
We offer a 30-day trial. Check it out and see if it's the right tool for you.